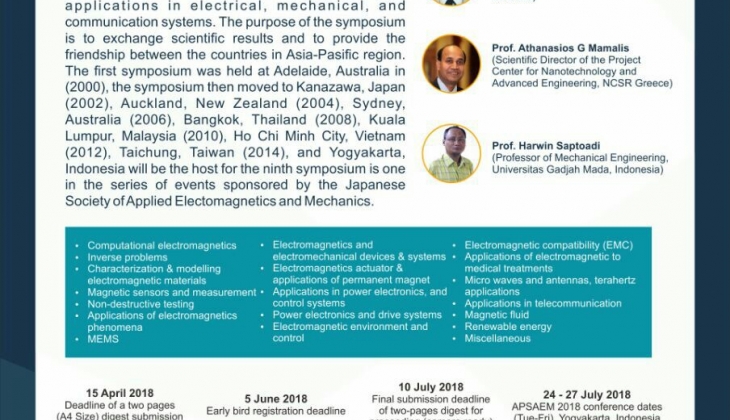 | | | |
| --- | --- | --- |
| Commite | : | APSAEM 2018 |
| Location | : | Yogyakarta |
| Contact | : | apsaem.ft@ugm.ac.id |
| Website | : | http://www.apsaem.ft.ugm.ac.id/ |
| Event | : | Tuesday,24 July 2018 - Friday,27 July 2018 |
CALL FOR PAPER IS OPEN
APSAEM 2018: The 9th Asia-Pacific Symposium on Applied Electromagnetic and Mechanics invites original papers to be presented at this international Conference.
We devoted to topics on electromagnetic phenomena both low and high frequencies, and applications in electrical, mechanical and communication systems.
The full paper will be peer reviewed for publication in a special issue of Journal of the Japan Society of Applied Electromagnetics and Mechanics.
Submit your paper here >> apsaem.ft@ugm.ac.id (before 15 April 2018)
Topics
Computational Electromagnetics, Inverse Problems, Characterization & Modeling of Electromagnetic Materials, Magnetic Sensors and Measurement, Non-destructive Testing, Applications of Electromagnetic Phenomena, MEMS, Electromagnetic and Electromechanical Devices& Systems, Electromagnetics Actuator & Applications of Permanent Magnet, Applications in Power Electronics and Control Systems, Power Electronic and Drive Systems, Electromagnetic Environment and Control, Electromagnetic Compatibility (EMC), Applications of Electromagnetic to Medical Treatments, Micro Waves and Antennas, Terahertz Applications, Applications in Telecommunication, Magnetic Fluid, Renewable Energy, Miscellaneous.
Important Dates
15 April 2018 Deadline of two-pages (A4 size) digest submission
31 May 2018 Digest acceptance notification
5 June 2018 Early Bird registration deadline
5 July 2018 Normal registration and payment deadline
10 July 2018 Final submission deadline of two-pages digest for proceeding
24 July 2018 Full paper submission deadline (for peer review of JJSAEM)
24-27 July 2018 APSAEM 2018 conference dates, Yogyakarta, Indonesia
Conference Venue
Grand Inna Malioboro Hotel, Yogyakarta, Indonesia
Contact Details
For any question please contact apsaem.ft@ugm.ac.id or check our website atwww.apsaem.ft.ugm.ac.id. The Orginizing Committee is willing to provide feedback on papers from now on.