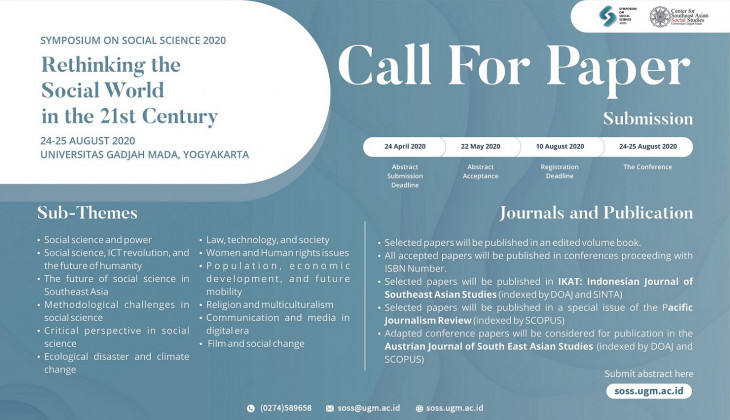 | | | |
| --- | --- | --- |
| Commite | : | Pusat Studi Sosial Asia Tenggara UGM |
| Location | : | Balai Senat UGM, University Club UGM |
| Contact | : | Teya Tiana - +6281949482771 |
| Website | : | http://soss.ugm.ac.id/ |
| Event | : | Monday,24 August 2020 - Tuesday,25 August 2020 |
The Symposium on Social Science (SOSS) is a biennial international event in the field of social science organized by the Center for Southeast Asian Social Studies, Universitas Gadjah Mada. The theme of the 2nd symposium is 'Rethinking the Social World in the 21st Century.' It addresses changes that information technology has brought about to the society. It has not only redefined the way in which we interact with one another, but it also changed the nature of power within society. Amid these changes, social sciences face a very serious challenge. Unless they take the changes into account by addressing these issues or adjust their understanding of the world they are focusing on, the future of social sciences is rather bleak. The symposium, therefore, would take this challenge seriously to make social sciences relevant despite the changes.
It will be held at the Universitas Gadjah Mada, Yogyakarta, Indonesia from 24-25 August 2020.