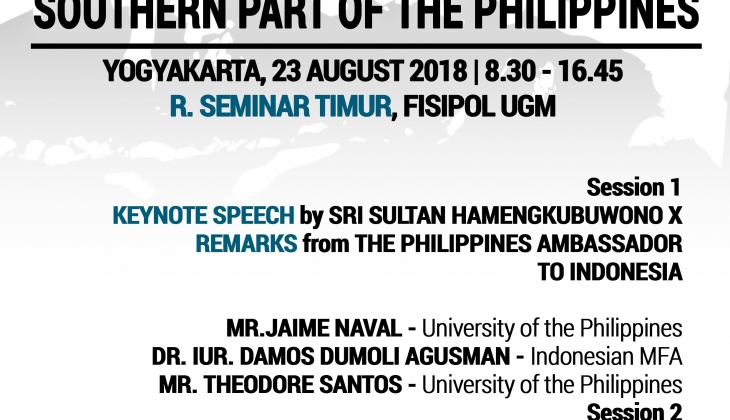 | | | |
| --- | --- | --- |
| Commite | : | ASEAN Studies Center, FISIPOL UGM in collaboration with the Policy Analysis and Development Agency (PADA) of the Ministry of Foreign Affairs of the Republic of Indonesia |
| Location | : | Ruang Seminar Timur, FISIPOL UGM |
| Contact | : | +62-851-1332-3663 (KARINA) |
| Website | : | http://asc.fisipol.ugm.ac.id/ |
| Agenda | : | Monday,20 August 2018 - Monday,20 August 2018 |
"Seminar on Enhancement of Cooperation Between Eastern Part of Indonesia and Southern Part of the Philippines"
ASEAN Studies Center, Faculty of Social and Political Sciences, Universitas Gadjah Mada
&
The Policy Analysis and Development Agency (PADA) of the Ministry of Foreign Affairs of the Republic of Indonesia
BIMP - EAGA (Brunei Darussalam, Indonesia, Malaysia, the Philippines – East ASEAN Growth Area) was established in 1994, the purpose of which is to boost economic development in the sub-region. Although various efforts have been initiated to enhance cooperation in trade, tourism, and investment, yet there has been no significant improvement recorded. Some perennial challenges persist that hampered the speedy progress of such cooperation. In the meantime, there is no doubt that the subregion is endowed with abundant natural resources and huge potentials that require high commitment from relevant stakeholders to realize the full benefits of the cooperation. On the other hand, rampant poverty, illegal fishing, border security, and radicalism as well as terrorism pose common challenge that threatens the development process in the sub-region.
To facilitate the implementation of development programs in BIMP – EAGA, it is high time for think tank and academic institutions in the sub-region to strengthen the cooperation through research and seminars. This will help identify the core issues and problems that may have contributed to the success or failure of any development initiatives in the sub-region.
The Seminar is intended to be one of the milestones, particularly from the aspect of intellectual contribution, through identification and formulation of strategies and practical measures, to further strengthen cooperation between Indonesia and the Philippines within BIMP – EAGA sub-region.
Keynote speech:
Sri Sultan Hamengku Buwono X (The Governor for Special Region of Yogyakarta)
H.E. Lee Hiong Tan Wee (The Philippines Ambassador to Indonesia)
Speakers:
Session 1
Mr. Jaime Naval – University of the Philippines
Dr.Iur. Damos Dumoli Agusman – Indonesia MFA
Mr. Theodore Santos - University of the Philippines
Session 2
Dr. Diana Mendoza – Ateneo de Manila University
Dr. Burhan Niode – Universitas Sam Ratulangi
Dr. Dafri Agussalim – Universitas Gadjah Mada
Mr. Neil Simon Silva – University of the Philippines
REGISTRATION: Subject AUGUST SEMINAR
Format NAME_INSTITUTION_PHONE. NO to aseansc@ugm.ac.id
Deadline 20 August 2018 | CP: Karina +62-851-1332-3663