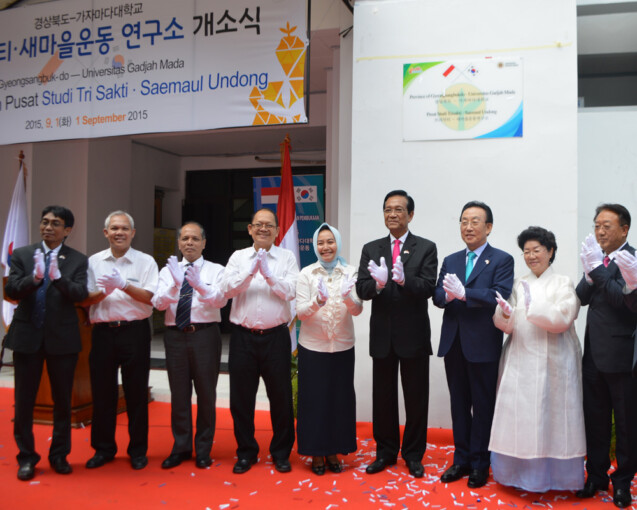 Rector of UGM, Prof. Ir. Dwikorita Karnawati, M.Sc., Ph.D., Governor of Gyeongsangbuk-do province in South Korea, Mr. Kim Kwan-Yong, and Governor of Province of Yogyakarta Special Region, Sri Sultan HB X, have inaugurated the Centre for Tri Sakti and Saemaul Undong Studies on Tuesday (1/9) at Faculty of Philosophy UGM.
The Centre is initiated by Faculty of Philosophy, Faculty of Social and Political Sciences, Faculty of Cultural Sciences, Faculty of Agriculture, and Faculty of Forestry UGM in cooperation with the government of South Korea. It is a forum for researchers and students to do studies to support and improve capacity building of rural communities.
The Rector said there were similarities between Indonesia and South Korea, including the spirit to work together in social entrepreneurship as seen in the Saemaul Undong spirit in South Korea and Tri Sakti spirit in Indonesia to realise sovereignty in politics, economy, and culture.
"The harmony between the two can develop the rural communities and drive them so as to increase their welfare," she said. Dwikorita said Indonesia need to learn by example of the development in South Korea based on Saemaul Undong to develop the nation, starting from the rural communities through agriculture and industry.
The Governor of Gyeongsangbuk-do said that the establishment of the Centre was significant for the ties between Indonesia and South Korea. He hoped the Centre would produce high quality academic studies, adding "We extend our gratitude to the UGM for the will to encourage the rural communities in cooperation with us."
Yogyakarta Governor congratulated the establishment of the new Centre of Studies, hoping that he could participate in it whilst the Centre would bring benefits to not only residents of Yogyakarta, but also Indonesian citizens.
"We hope the Centre would develop further and benefit all members of communities," he said.
Sri Sultan HB X explained the Centre's establishment was an important momentum that follows the sister province programme already applied in two villages in Gunungkidul and one village in Bantul. UGM has conducted similar programmes in Kulon Progo and Yogyakarta with the Segoro Amarto programme.