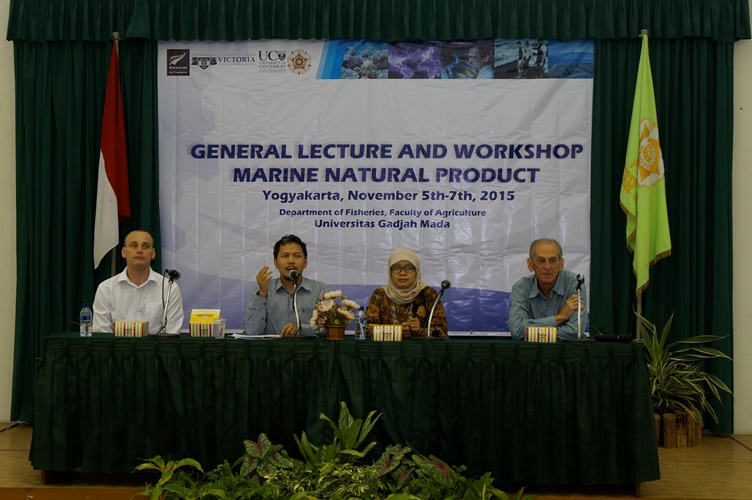 Fisheries study programme in the Faculty of Agriculture conducted General Lecture and Workshop in Marine Natural Products under Principal Investigator, Noer Kasanah, PhD, with the theme Bringing Biodiversity Into Chemical Diversity, from 5-7 November 2015 in the Prof. Ir. Harjono Danoesastro Auditorium and Wisma MM UGM, opened by Dr. Jamhari, SP., MP. (Dean of Faculty of Agriculture).

This mission facilitates experience sharing, technology transfer, encouraging research and collaboration in marine natural products.
Activities conducted by the Research Group of Marine Biotechnology led by Noer Kasanah, PhD. will develop Indonesia's marine natural resources and prepare human resources that have the competence to manage them. Indonesia has mega-biodiversity bearing in mind that two thirds of Indonesia's territory comprise the sea; marine organisms here are diversified with high potential for human health benefits.
Committee chairman said, "This is in line with the condition of Indonesia as a country with abundant megabiodiversities," in press release on Monday (9/11).
More than 100 people attended the event that invited resource persons from New Zealand, Rob Keyzer, Ph.D. (University of Victoria Wellington) who talked about chemical investigation of sea weed from New Zealand, and Prof. John Blunt (University of Canterbury) who shared experiences in finding of Halicondrin B compound into anti-cancer erbulin. It took them 28 years to develop it into anti-cancer treatment.
The General Lecture is one program in the Community Resiliance & Economic Development (CaRED) and New Zealand Ministry of Foreign Affairs & Trade (MFAT), in cooperation with UGM Fisheries department,. University of Victoria Wellington, and University of Canterbury. According to Ida A. Utomo, one participant, the event had driven the spirit to explore Indonesia's marine potential.