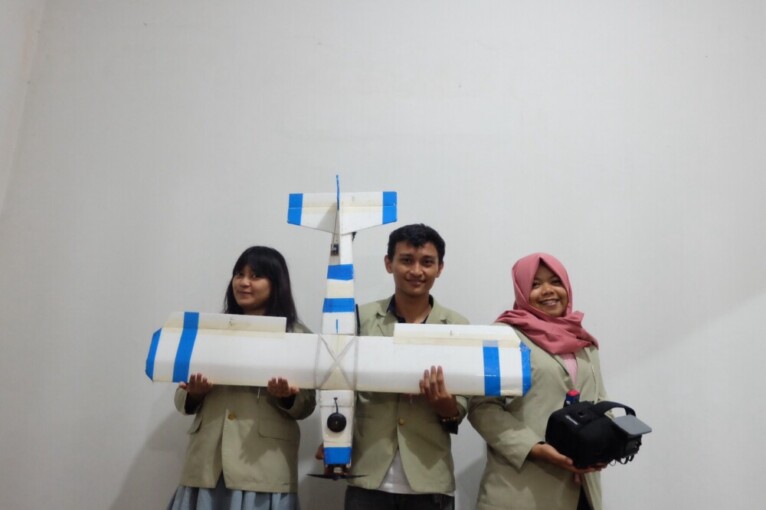 Forest fire is an issue that still could not be solved by the government of Indonesia. Until April 2016, there were 79 hotspots spreading across the island of Sumatra. Of these figure, 56 of them were in the province of Riau. Slow handling of forest fires create smoke effects that could spread up to Malaysia and Singapore. One of the obstacles in the handling of forest fires is the difficulty in finding the location of the fire to be extinguished by the disaster management officer.
This motivated a number of UGM students to create a tool that can help forest fire disaster management officials monitor fire source. This tool is an unmanned Aerial Vehicle (UAV) named "PAPI".
Ariesa Budi Zakaria, head of the development of PAPI, said that the plane they developed has the configuration of fixed-wing located at the top of the fuselage. The aircraft is equipped with a monitoring mission by the method of live streaming video.
"PAPI has superiority compared to other hotspots search tool, PAPI has an antenna that could emit stronger signals than factory-made antenna," he explained on Friday (10/6) at the Faculty of Mathematics and Natural Sciences UGM.
Patch-shaped antenna with the frequency of 5.8 Ghz they made by themselves. With a strong signal, it will provide high quality video received by ground station and it could cover wide range.
Not only that, Ariesa mentioned that PAPI is lighter with the size of 1,5×1 m, which makes mobilization of the plane more practical.
"Cameras used as the FPV can also be changed to adjust the mission that must be completed," he said.
PAPI development is done by Ariesa along with two colleagues from Faculty of Social and Political Sciences, namely Bunga Addinta Swandari and Nurlita Prima Regiati. PAPI is developed through Student Creativity Program Karsa Cipta (PKM-KC) UGM.
Ariesa explained before the aircraft is operated, it must perform ground station program for the mission to be accomplished by PAPI. After that, the vehicle can be launched only with a throw of hand because of its light weight.
During the mission, the movement of the vehicle is monitored by live video streaming which is connected to a ground station. When monitoring mission was complete, the vehicle can be automatically returned to a ground station.
With PAPI, he added, disaster management officials no longer need to go directly into the forest to locate hotspots. They could directly monitor hotspots of ground station via video streaming. The location of hotspots can be determined by looking at the pattern of smoke captured by the camera of PAPI. This could minimize the risk of casualties from the forest fire disaster.
"In the future we would like to develop PAPI so it could be streamed on smartphones," he said.