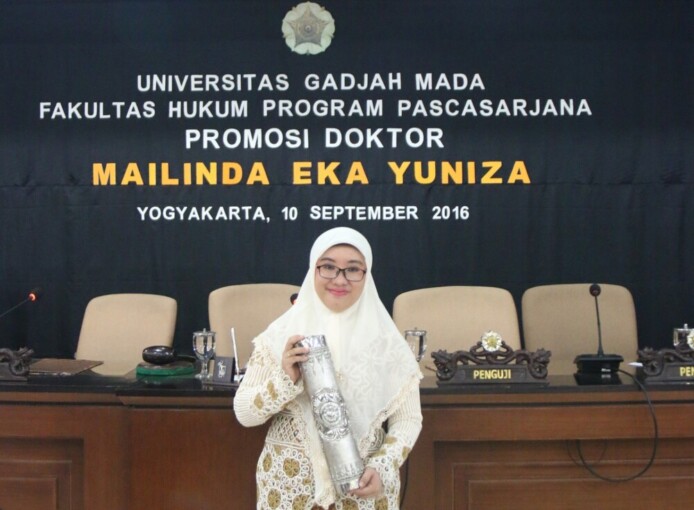 Mailinda Eka Yanuza, S.H., LL.M., earned a doctorate from Faculty of Law UGM on Saturday (10/9) for her dissertation titled Direction of Regulation Policy in Health in the Extended Autonomy Era.
At the Faculty of Law UGM, Mailinda explained the direction of regulation on health affairs is interpreted as how far regulations give authorities to regulate health affairs. The extended autonomy is meant as giving authorities to regional governments to regulate their own affairs which not contravening higher laws.
"The study tries to describe the direction of health regulation policy in the extended autonomy and implications on the level of public health," said Mailinda.
According to Mailinda, previously the direction was on disease treatment and recovery efforts. The direction later shifted to administration of health efforts that prioritised on disease prevention and health improvement. Focus on health of individuals also shifted to public health. Stakeholders in health was extended also by increasing public and private participation.
Regulation changes in regulating regional governments in terms of health during the extended autonomy was grouped into two periods, according to Mailinda. First, change from centralisation to decentralisation, and second, decentralisation to "re-(centralisation)".
"This does not mean that the direction became centralistic because, in essence, there is a division of affairs between central and regional governments related to health affairs," she said.
Mailinda proposed four issues to achieve ideal health regulation policy; first, government has to ensure direction of health regulation policy to be extended asymmetric decentralisation; second, government has to give room for transition for regions to improve their capacities in health decentralisation; third, government has to evaluate regional capacities to realise health regulation; and finally, government has to issue regulations that are mandated by Health Laws and Regional Government Laws.