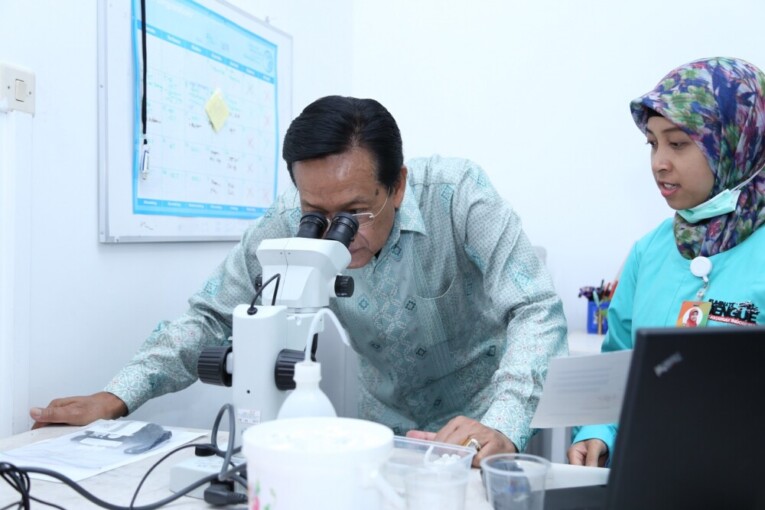 Governor of the Province of Yogyakarta Special Region, Sri Sultan Hamengku Buwono X, visited wolbachia mosquito research facilities at the Insect Laboratory at UGM on Tuesday (14/2). Sri Sultan saw for himself thousands of Aedes aegypti mosquitoes that have wolbachia bacteria that have been developed in the lab. Sri Sultan also witnessed the feeding of mosquito by human donors.
Afterwards, a discussion was held with UGM leadership and researchers joining Eliminate Dengue Project (EDP) team. Sri Sultan supports the project, saying that the research should continue for the benefit of the wider public. "It should continue, if not, the dengue fever may re-appear," he said.
According to Sri Sultan, this should be taken into consideration as it is possible that after the seventh generation of the mosquito, they will return to be a regular mosquito that contains no wolbachia bacteria so unable to eliminate dengue virus any longer.
Furthermore, Sultan has asked UGM to develop research in medication for tropical diseases. The Indonesian people have relied too much on imported medication which are not always in line with the condition of tropical community condition. "I hope the tropical disease laboratoy can be prioritised," he said.
To meet this goal, he asked UGM to work with the provincial government and donors from abroad with better research projects.
UGM Vice-Rector for Research and Community Service, Prof Dr Suratman, M.Sc., said the research on mosquito with wolbachia bacteria aimed at minimising dengue fever cases. It is the only one done in Indonesia, and it has been applied in areas of Yogyakarta. "It is the commitment of UGM that research innovation is not only to satisfy the curiosity of the researcher but for the interests of the nation," he said.
EDP main researcher, Prof. Adi Utarini, explained to eliminate dengue fever in an area it would need as high as 80 percent of Aedes aegypti mosquito population that have wolbachia bacteria. This is achieved by distributing in each home one bucket containing 60-120 mosquito eggs with wolbachia. "We replace the bucket every two weeks up until 18 – 20 replacements," she said.
Currently, the EDP team has distributed buckets to seven districts in Yogyakarta. Predictably, until March, 80 percent of mosquito population in the seven districts will already have wolbachia bacteria. "For the rest 35 districts, we estimate to reach some 60% of population by the end of the year," she concluded.