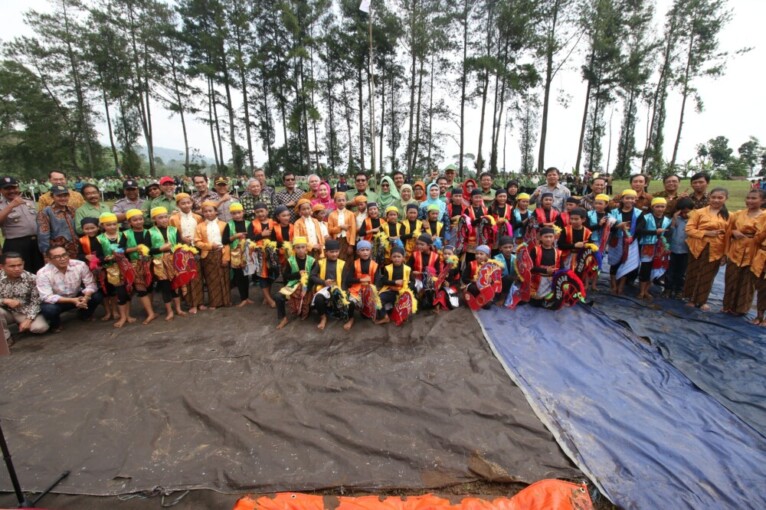 Entering the age of 50, Faculty of Philosophy UGM keeps enhancing its contribution to the science improvement. One of them is by strengthening UGM values in science development.
It is emphasized in the 50th Anniversary of Faculty of Philosophy entitled Half a Century Faculty of Philosophy Contributes for Realizing a Strongly Rooted UGM and Dignified Indonesia.
The opening of the anniversary event was signed by the balloon release by Dean of Faculty of Philosophy UGM, Dr. Arqom Kuswanjono, on Monday (8/5) at Faculty of Philosophy UGM. The Head of the Event Committee, Dr. M. Mukhtasar Syamsuddin, also accompanied the opening.
Dean of Faculty of Philosophy UGM, Dr. Arqom Kuswanjono, said this anniversary became a momentum for the faculty to enhance its role in the science development and strengthening the Philosophy of Pancasila and Nusantara.
"The anniversary theme is corresponding to our vision and mission to strengthen the Philosophy of Pancasila and Nusantara," said Arqom.
Arqom further said Faculty of Philosophy has a serious commitment to developing Nusantara Philosophy which is shown by the opening of several new courses, including Nusantara Philosophy, Wayang (Javanese shadow puppet) Philosophy, and Pancasila Philosophy. It is also supported by the establishment of Nusantara philosophy laboratory and a yearly International Conference on Nusantara Philosophy.
Moreover, they hold a summer course for students from all over the world and School of International Training Abroad Programme for American students who would like to study Indonesian philosophy and cultures.
"In order to encourage the philosophy development generally and Nusantara philosophy which is imbued with Pancasila values, the faculty will conduct a judicial review in its curriculum," he added.
The event committee, Mukhtasar Syamsuddin, said there are 20 events in the anniversary including the academic and non-academic activities, such as National Seminar on Wayang Philosophy, International Conference on Nusantara Philosophy, International Seminar on Indonesian Philosophy and World Peace, Nusantara Cultural Festival, as well as visiting the senior figures of the Faculty and pilgrimage, as well as various sports competitions which will be held until October.
"The peak events of the anniversary are an open senate meeting, Dean's report, and book review which will be held on August 18, 2017," said Mukhtasar.