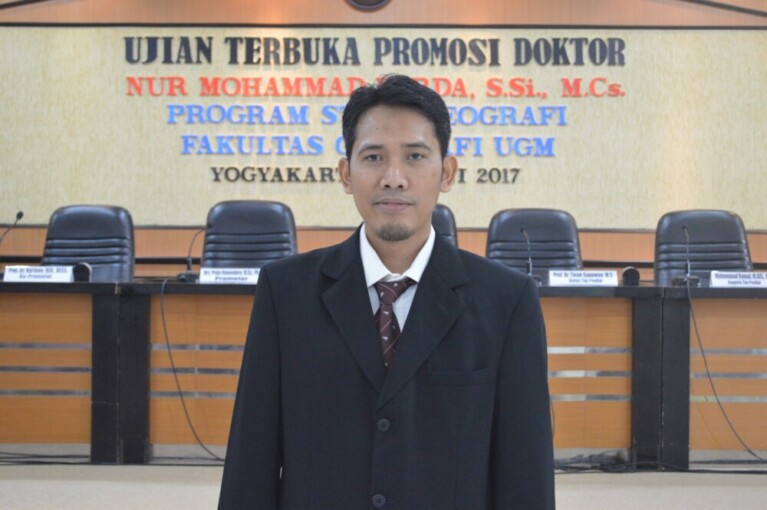 The abundant satellite image database which keeps increasing days by days need to be selected to extract information for many applications. Therefore, framework, method, and technique are essential to be developed for extracting the selected information that can process big size remote sensing images automatically.
According to Nur Mohammad Farda S.Si., M.Cs., a lecturer at Faculty of Geography UGM, image mining is a solution for remote sensing information extraction with a big database. According to Nur, image mining has been utilized in remote sensing image interpretation including tropical deforestation, hyperspectral data mining of granite, and clouds model interpretation from the meteorological satellite. Image mining also detects water, clouds, mountains, and rivers. Moreover, it can identify flood or flood potential areas temporarily. However, the study using remote sensing image mining approach at wetlands. particularly coastal wetlands. is still limited.
"Unfortunately, we still have minimum substantial knowledge regarding the correlation among image mining, remote sensing, and coastal wetlands for monitoring coastal wetlands," said Nur Mohammad Farda at Auditorium of Faculty of Geography UGM on Thursday (22/7) during an open examination for Doctoral Programme.
Nur Mohammad Farda said the research on wetlands particularly in developing countries, such as Indonesia is essential to be conducted because there is a huge land conversion to support development, but this often sacrifices wetlands which have an important role in encouraging sustainable development.
"Wetlands monitoring is essential to be performed in order to maintain the wetlands ecosystem which will be beneficial for the human's life or at least to control the alteration rate of the declining of wetlands area," said Farda when maintaining his dissertation entitled Image Mining in Remote Sensing for Monitoring Coastal Wetlands: Information-Based Perspective Framework.
Nur Mohammad Farda is concerned because currently, wetlands ecosystem keeps declining, thus it needs monitoring using the right technology. On the other hand, climate change symptoms also affect the alteration of wetlands by the release of carbon from wetlands.
"Coastal area, sustainable wetlands, and particularly coastal wetlands ecosystem have many benefits, thus they have to be preserved and managed. Therefore, the development of mapping method and coastal wetlands monitoring have to be encouraged despite the limited numbers of research," he added.
The contribution for science from Nur Mohammad Farda's research gives basic fundamental to image mining and spatiotemporal data mining using remote sensing data for coastal wetlands mapping and monitoring. This study has succeeded to integrate three different subjects which are remote sensing, image mining, and coastal wetlands.