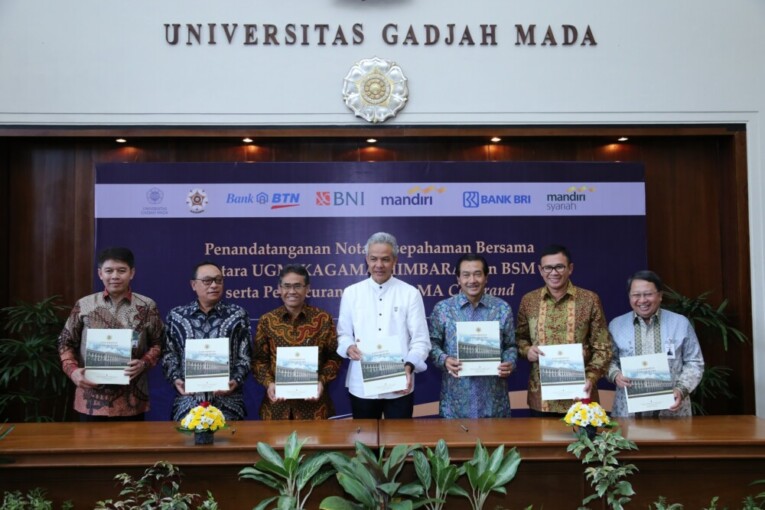 Universitas Gajah Mada alumni association (Kagama) in cooperation with Himbara institution and Bank Mandiri Syariah together launched GAMA Card Co-Brand which is alumni card that also serves as debit/ATM card.
The cooperation agreement was signed by Rector of UGM, Prof. Panut Mulyono, M.Eng., D.Eng, Chairman of KAGAMA, Ganjar Pranowo, and Director of BNI Bank, Achmad Baiquni, Director of BTN Bank Maryono, Director of BRI Suprajarto, Deputy Director of Mandiri, Sulaiman Arianto, and Director of Mandiri Sharia Bank Kusman Yandi.
Each card launched by the banks, BNI, BRI, Mandiri, BTN or Mandiri Sharia, has its own features. Members of KAGAMA may select their own Co-Branding of their choice.
Rector of UGM, Panut Mulyono said the cooperation was a proof of synergy between the state owned banks, Kagama and UGM. This is expected to improve the quality of education at UGM.
"With this cooperation, the GAMA Co-Brand card does not just serve as alumni card but also usable for transaction in all the banks," he said in the Senate Hall on Saturday (12/8).
According to the Rector, with UGM graduates accounting for 15 thousand each time in addition to the total number of alumni at 300 thousand, this made a huge potential. The GAMA Co-Brand is expected to give convenience to the card holders.
Governor Ganjar Pranowo added that amidst IT advancement presently in every element of life, an idea came up to have an added value of alumni card.
"This is where the significance of IT for common welfare lies, benefitting all," he said.
Himbara Chairman, Maryono, SE, MM, said the launching of GAMA Co-Brand card was a breakthrough by Kagama that collaborates with the state owned banks. He added the GAMA Co-Brand serves as debit card as well as discount card for some facilities.