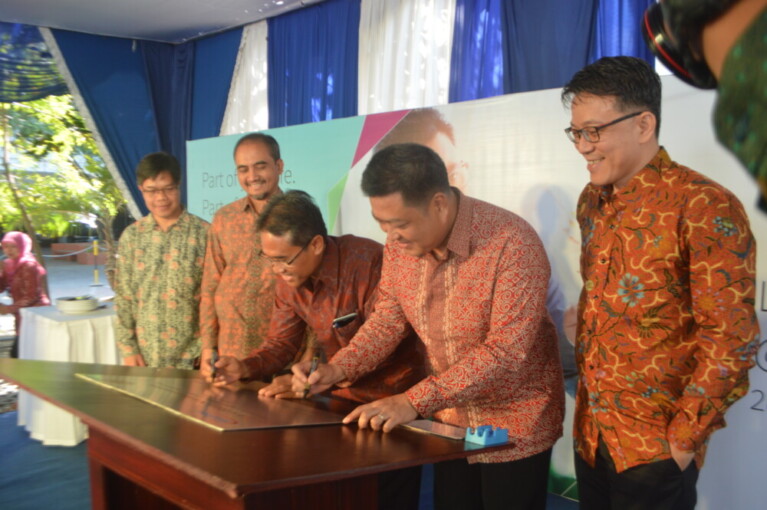 Universitas Gadjah Mada (UGM) and Infineon have agreed to collaborate in research area, particularly in the development of electronic power. This is marked by the installment of Infineon-Gadjah Mada Research and Engineering Lab or i-GREEN Lab in Electrical Engineering Department of Faculty of Engineering UGM on Monday (28/8).
This was symbollically signed with plaque signing by Rector of UGM, Prof. Ir. Panut Mulyono., M.Eng., D.Eng., and Head Development Center of Infineon, Tjia Jerome, witnessed by Managing Director of Technologies Batam, Lee Chee Hong.
In his remarks, the Rector said the collaboration was aimed at improving curriculum materials of Electrical Engineering Department to educate students to be qualified electrical experts in the future. The i-GREEN lab is utilised to support research works of graduate students in electronics, especially for research on electrical vehicles and renewable energy.
"The presence of the laboratory would very much supports education, especially to improve capabilities and competence of the students," he said.
Panut also hoped the collaboration would produce research that can be downstreamed so as to benefit the general public.
Acting Dean of Faculty of Engineering UGM, Ir. Muhammad Waziz Wildan, M.Sc., Ph.D., said the construction of the laboratory was to support education enhancement and research as well as to improve student competence.
"Hopefully, in the future the collaboration can be strengthened," he said.
Head Development Center of Infineon, Tjia Jerome, said the collaboration was a form of support from the industry to education and research in higher education, especially UGM. Infineon will fund the i-GREEN lab, lab equipment and product samples that are required in education and research in power electronics. Research in this area will focus on application development of electrical vehicles, traction, and generic industry applications and renewable energy such as power inverter and power stabiliser.
"The lab establishment is a follow-up to the realisation of the MoU with the UGM that was done two years ago," he said.
Tjia Jerome further congratulated UGM that had ranked first in Indonesia in 2017. "We are very honoured to be able to have collaborations with an excellent and elite university. Hopefully, the lab would be able to enhance the position of UGM and generate professional engineers as well as producing breakthroughs that are benefecial for the people of Indonesia and the world," he said.