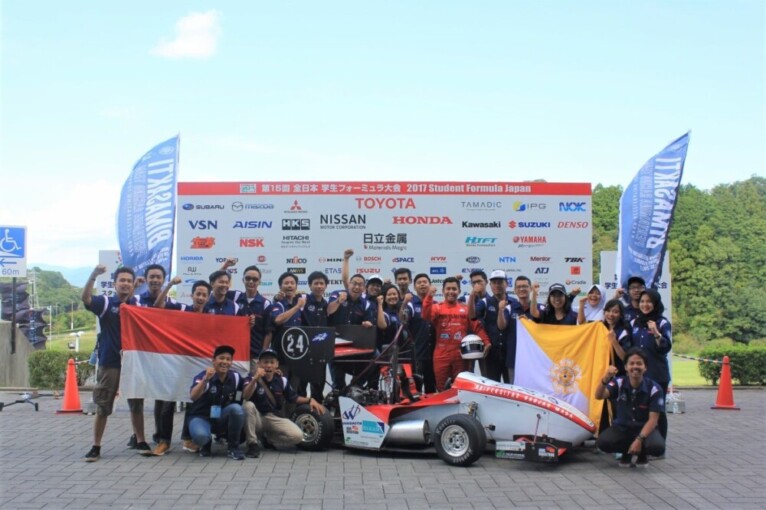 Student Formula Japan 2017 event which was held from September 5 until 9, 2017 at Ecopa Stadium, Shizuoka, Japan has ended. Bimasakti Pertamina UGM Team had given their best in the competition. Various series of events that had been attended by the team were Static Event, Technical Inspection, and Dynamic Event. The team succeeded to pass Technical Inspection in the second day of the competition and move to Dynamic Event which consisted of Acceleration, Skid Pad, Autocross, Endurance, and Efficiency.
This year, Bimasakti achieved an improvement in technical inspection aspect where they were able to finish it within 1.5 days. Compared to the previous year, Bimasakti team had to perform various tests for many times which took longer time.
"After passing Technical Inspection, Bimasakti started the Dynamic Event with joining Acceleration Event with a time record of 5.962 seconds. Then, they continued by joining the Skid Pad Event with a time record of 10.830 seconds. In this event, Bimasakti car obtained a significant increase from 2.5 points in the previous year to 42.45 points," said Rifqi Taufik Alhakim as the Team Captain on Tuesday (12/9).
In Autocross Event, BM-6 car recorded the best time in its history of joining Student Formula Japan competition which is 1:05:123. Autocross Event is an event that determines the team position on Endurance Event. Bimasakti is one of two Indonesian teams that succeeded to enter this event.
Rifqi also said Bimasakti Team had prepared their best strategy by doing practice and warming up before the Endurance Event. "After passing 9 of 20 laps, BM-6 had a technical problem, thus it could not finish this event," he added.
On the other hand, Bimasakti's achievement in Static Event significantly increases from the previous year. In Cost & Manufacturing Event, Bimasakti ranked 45th from 98 teams. Moreover, in Design Event, they were the 31st rank with 77 points which are the highest point among other Indonesian teams. The main achievement is in Business Presentation where Bimasakti Team is one of the top-five teams.