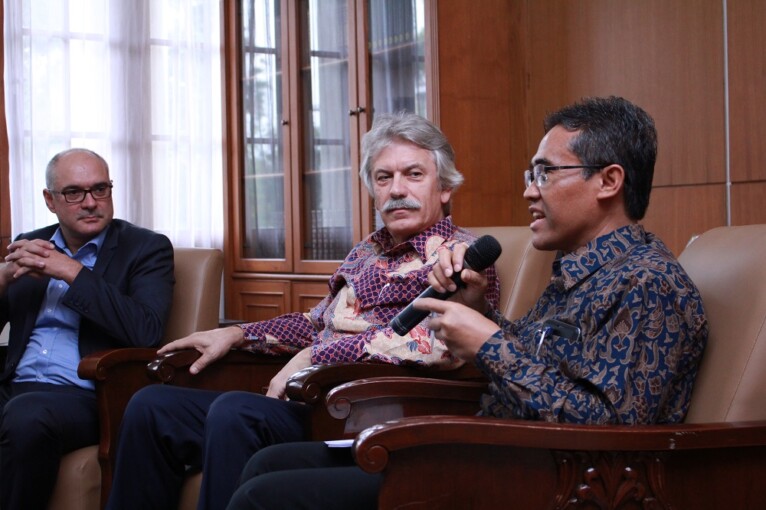 UGM Robot teams, Gamaforce, are ready to compete in the Indonesian Flying Robot (KRTI) 2017 competition. To this competition, the Gamaforce sends four category teams, namely Fiachra Aeromapper, Rasayana Racing Plane, Gadjah Mada Fighting Copter, and Khageswara Technology Development.
KRTI 2017 event will run in Pasuruan, East Java, from 16-21 October 2017. There will be four categories to be competed, which are mapping, vertical take-off, racing planes, and technology development.
Gamaforce team leader, Rifyal Garda Pamudi, said the UGM would send four teams to the four categories. They are Fiachra Aeromapper to compete in fixed wing category with the mission to map territories, Rasayana Racing Plane team in high speed cruising category to cover 200 km/hr distance, Gadjah Mada Fighting Copter in pick and drop survival kit category, and Khageswara in plane development, ground control station, and tracker category.
"We are requesting for your support that the Gamaforce team can compete maximally and retain the grand champion status in this competition," Rifyal said on Wednesday (11/10) in the release event at Balairung UGM.
Previously in 2015 and 2016, Gamaforce UGM won the competition twice consecutively. Therefore, they hope to win it again in 2017.
"The competition this time is getting heavier, but we are optimistic and would go for it. Hopefully, we can bring home the victory again and make UGM proud," he said.
UGM dispatches 63 students for the whole competition, coming from different faculties such as Engineering, Mathematics and Natural Sciences, and Vocational School.
UGM Director for Student Affairs, Dr. Suharyadi, who released the contingent of Gamaforce UGM expressed his hope that the Gamaforce team would be able to show its best performance and bring home victories.
"Good luck to you all and do your best," he said.