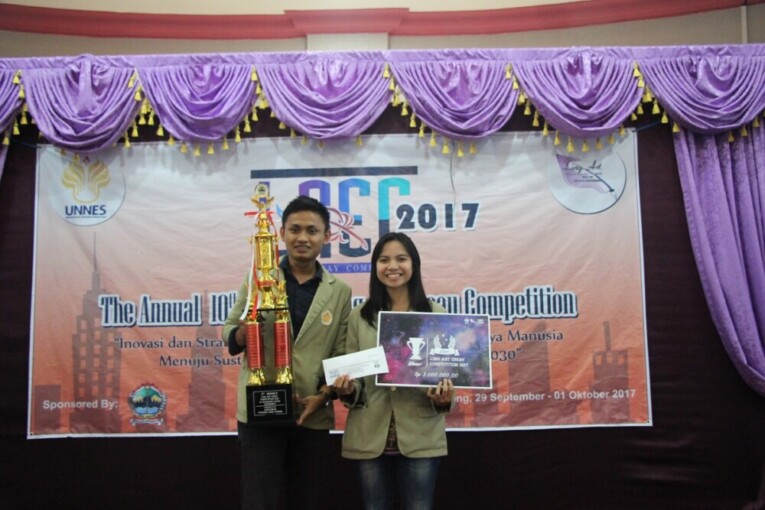 Students of Universitas Gadjah Mada keep making achievements. This time, the achievement is obtained by Fernandi Army, a student from Department of Economics, Faculty of Economics and Business, collaborating with his colleague, Natasha Christanti from English study programme, Vocational School UGM. They succeeded to be the first winner in the Annual 10th Ling Art Essay Competition (LAEC) 2017 which was held at Faculty of Linguistics and Art, Semarang State University. The two students succeeded to earn a trophy from the Governor of Central Java Province.
LAEC is a national essay competition held by Lingua Artistica (Ling Art), a semi-autonomous unit under the Student Executive Board of Faculty of Linguistics and Art, Semarang State University. The competition is an annual academic event by the students as an implementation of Tri Dharma (Education, Research, and Community Service) of the university. The competition is purposely held to enhance their network and strengthen the cooperation among the students as well as study clubs from many top universities in Indonesia.
This year, LAEC is attended by more than 100 teams from various universities in Indonesia. After passing through many stages since abstract submission, selected abstract announcement, until essay submission, the top 15 teams were selected as the finalists to present their essays. In the final presentation, each finalist presented their essay and continued with question and answer section. The juries evaluated and asked questions to the finalists.
The competition which was held at the end of September presented finalists from the University of Indonesia, Bogor Institute of Agriculture, Semarang State University, and many others. This competition had given real positive impacts to UGM students to make proud of their university as well as an opportunity to prove the quality of UGM at the national level.
The winner of LAEC, Fernandi Army, said this achievement cannot be separated from supports from many parties both from Faculty of Economics and Business UGM and external parties. Fernandi hopes it can inspire other students to also make achievements.
"This achievement is expected to inspire other students to also make achievement and give a real contribution to UGM," said Fernandi on Tuesday (31/10).