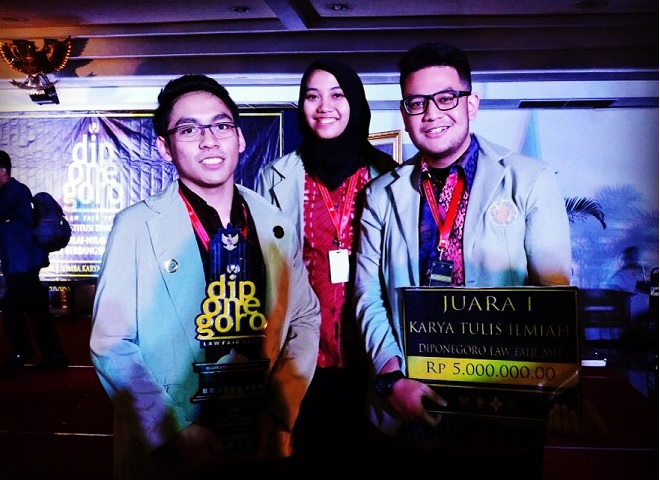 UGM Contingent has grabbed all awards from the Scientific Writing Competition (LKTI) in the Diponegoro Law Fair (DLF) 2017 that was organised by Constitutional Court in cooperation with Law Faculty of Universitas Diponegoro from 27-29 October 2017 in Semarang, Central Java.
The UGM team won the first, second, and third awards in the competition that raised the theme Revitalisation of Pancasila Values to Build Future Leaders. They beat the team from UPH, UB, Unpar, UIN Syarif Hidayatullah, and UI.
DLF 2017 is the largest competition for Law students in the country, this time joined by 31 contingents from all state universities' Faculty of Law.
The UGM Anthony Eden team winning the first award consisted of Muhammad Jibril, Arvel Mulia Pratama, and Jinan Raidangi, supervised by Rafael Edi Bosko, S.H., MIL. They submitted the paper entitled Revitalisation of Social Justice Value in Land Procurement for Public Interest in Indonesia through Polymerized Compensation System.
"Our team was trying to give solution to the basic problem of land procurement, namely damage payment. As a matter of fact, there are still oppositions emerging against construction projects. The value of damage has yet to meet proper and fair criteria," said Muhammad Jibril at UGM on Tuesday (31/10).
Meanwhile, the Denis Healey team consisting of Septilia Mahardika and Rr Puspita Narastiti Aprilina Hajj, supervised by Sartika Intaning Pradhani, S.H., M.H., wrote the paper entitled Concept of Integrated Damage Based on Mutual Consent in Land Procurement of Customary Land.
The third winner team, Petra Kelly, consisting of Glinggang Hima Pradana, Wahida Sophie Hidayanti, and Widhia Kusuma, supervised by Muhammad Fatahillah Akbar, S.H., LL.M, submitted the paper entitled Reconceptualisation of Role of Monitoring Team for Religion and Faith through Inter-governmental Institutions Partnership as Recognition of Religious Tolerance.