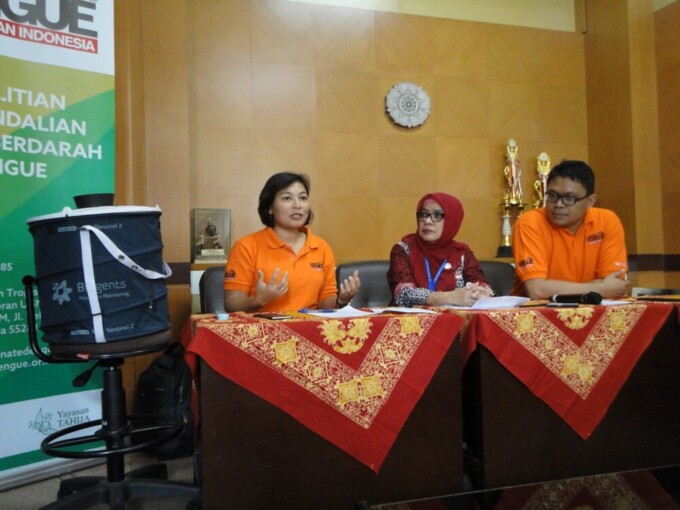 Dengue fever cases in Yogyakarta during 2017 experiences a significant decrease. There were 1,705 cases where 13 of them led to mortality in the previous year, while this October, there are 383 cases where 2 of them caused mortality. The decrease of those cases is mainly caused by the program of spreading Wolbachia mosquitoes which are implemented in 12 regions in Yogyakarta City since the middle of this year. The spreading of Wolbachia mosquitoes is still running until the end of 2019.
However, the Head of Disease Control and Environmental Health Yogyakarta, Yudiria Amelia, has yet to conclude that the decrease of dengue fever is caused by Eliminate Dengue Project (EDP) programme. According to Yudiria, the decrease of dengue fever cases is also influenced by the weather factor due to the uneven rainfall during the season. "We have yet to be able to conclude the cause of the decrease of the dengue fever cases, because this research has not finished yet. If we consider the uneven rainfall which is different from the previous years, I think it might be the factor that causes the decrease of the cases," said Yudiria Amelia at UGM campus on Thursday (25/9).
A researcher from Eliminate Dengue Project (EDP) UGM, dr. Riris Andono Ahmad MPH, Ph.D., said since last year, EDP team has been spreading 5,000 buckets that contain Wolbachia mosquitoes in 430 spots in 12 regions in Yogyakarta City. "We also distribute as many as 430 mosquito equipment to calculate the percentage of the number of Wolbachia mosquitoes," said Riris.
According to Doni, the mosquito equipment will collect abundant mosquitoes. Every week the mosquitoes which are trapped in a tube will be taken by the researcher team to be the testing samples. "For Tegalrejo and Wirobrajan areas, the current number of Wolbachia mosquitoes is high and stable, around 90% of the total mosquitoes over there already contain Wolbachia," said Doni.
However, Doni said his team also assigned 18 volunteers in 18 Community Health Centers to record the patients who are likely to suffer from dengue fever. Those data, according to Doni, are really essential in the research on Wolbachia mosquitoes. Their experience in the previous research which was conducted in Sleman for two years shows the patients who were suffering from dengue fever came from other regions which had yet to have Wolbachia mosquitoes. "Our hypothesis is if there are dengue fever cases, most of them come from the regions which have yet to have Wolbachia mosquitoes," said Doni.
The research on Wolbachia mosquitoes has been conducted in 10 countries, including India, Australia, Brazilia, Colombia, Vietnam, Srilanka, Fiji Island, and several countries in Pacific Islands. The development of this research in Indonesia experiences a rapid progress than the others due to the support from the local governments and the high acceptance from the community.