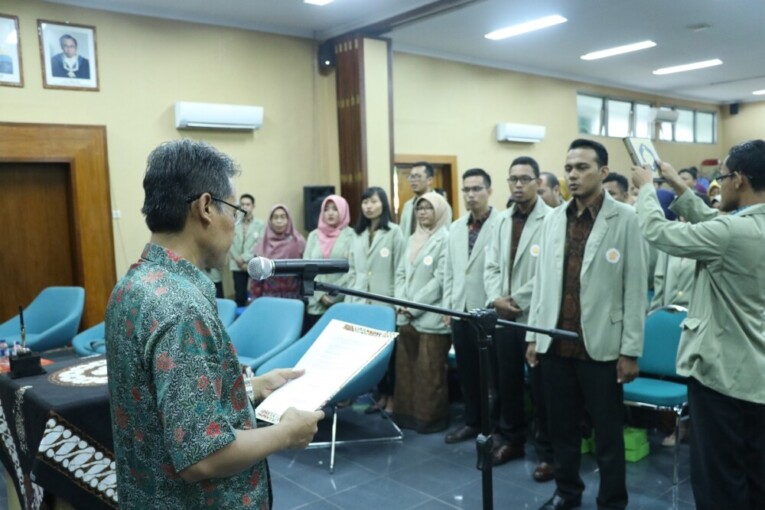 Rector of Universitas Gadjah Mada, Prof. Ir. Panut Mulyono, M.Eng., D.Eng. inaugurated new student committee of UGM Graduate Student Association 2018. A discussion was also held by presenting several keynote speakers, they were Prof. Dr. Muhammad Dimyati, M.Sc. (Director General of Research and Development in Ministry of Research, Technology, and Higher Education), Dimas Oky Nugroho, M.Phil., Ph.D. (Founder of National Cadre Fellowship Program), and UGM Rector. The event was held on Saturday (24/2) at Auditorium of Faculty of Mathematics and Natural Sciences UGM.
On the occasion, Panut said one of the keys to the rise and advancement of a nation lies in the Human Resources. Indonesia has abundant human resources. However, the quality of those human resources still requires to be enhanced.
"One of the efforts to enhance the quality of the human resources is through education," said Panut.
Panut said a nation which has a bad education system cannot produce qualified human resource. Good and reliable human resources are born from good education system. Panut emphasized education is the most powerful weapon to change the world.
Panut further said one of the hopes of Indonesian community toward university is creating reliable human resources. According to Panut, the university has also to become a place for making innovations.
"The students have to think far ahead to make innovation and new findings in order to facilitate the community's life," said Panut.
On the other hand, Dimyati highlighted the research culture in Indonesia. According to Dimyati, the research productivity in Indonesia is lower than in other countries. Dimyati said currently the productivity of Indonesian researchers only reaches 2% which is lower than South Korea that reaches 18%. The low productivity encourages improvement in management and research infrastructures.
"Other issues that may cause the low productivity of Indonesian researchers are the little budget and unfocused national research," said Dimyati.