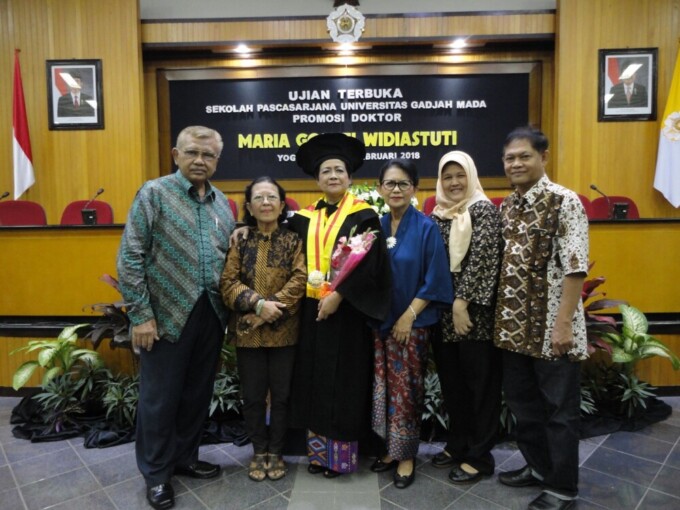 Patients of mandibular ameloblastoma or non-malignant tumour mostly occurs in the mandible with many have to experience radical treatment or mandibular resection whether partly or entirely. The impact due to the loss of chewing muscles due to defect will also cause aesthetic and physiological functional disorders that may need reconstruction. But the installation of reconstructive plate without guidelines will cause post-reconstruction damage, such as detachment of screw, plate exposure, broken plate, infection, and pain and stress in the patient. So, a prediction for the length of the bone is needed to reconstruct wide defect, using osteocutaneous fibula free flap.
This was said by Maria Goreti Widiastuti, Biotechnology doctoral student that has interest in biomedical engineering in UGM Graduate School during her doctoral promotion on Tuesday (27/2). The dentist at the Sardjito General Hospital revealed the need for predictive models due to the presence of intact geometrical model of patient and can be used for bending the reconstructive plate.
The research involved 22 female people with Eichner index category A. Research was done by measurement of 25 linear and 2 degree craniomaxillary in virtual image of Standart Tesselation Languange. It showed that 95.45% of research subject has brachycephaly (wide skull) consisting of 28.57% ultra brachycephaly, 57.14% hyper-brachycephaly and 14.28% brachycephaly. While the form of mesocephaly was just 4.54%.
All the subjects are Javanese female, known to be 31.18 percent having facial leptoprosop or high and narrow face, consisting of 42.85% hyperleptoprosop and 57.14% leptoprosop. "While the mesoprosop face or medium face around 36.36%, short face or euriprosop and wide face reaches 31.18%," said Widiastuti.
The research showed significant relations statistically between the width of bizigoma and mandibular parameter that experience defect type LCL, except toward mandibular anterior width, gonial mandibula dextra and sinistra. During the period of bone growth the face becomes higher, wider and longer, but the relations between facial bones to head bones do not change.
Widiastuti said the research can also be done to do surgery planning that needs bone length prediction. "So the predictive model is to make complete gemetrios model in patient that can be used for bending the reconstructive plate," she said.