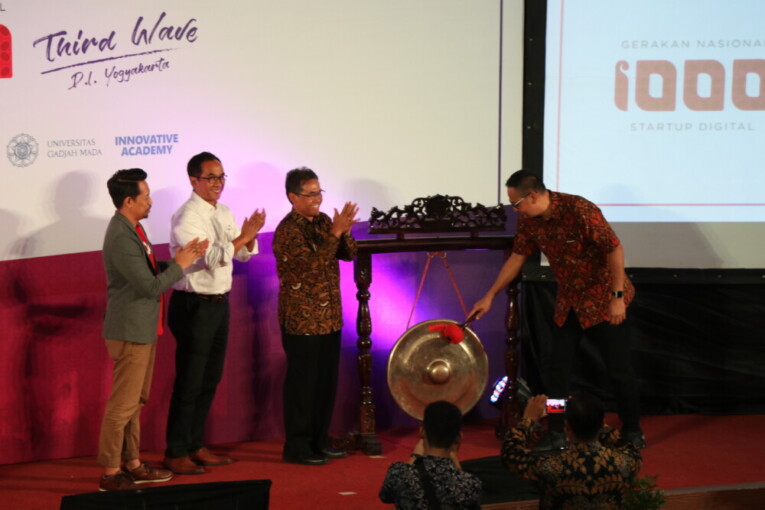 After running for more than a year, the National Movement of 1,000 Digital Startups has now achieved 33,000 applicants, with 127 startup businesses involved in the incubation process in Yogyakarta. This movement comes along with the Innovative Academy, an incubation program held by UGM that aims to build digital startup with Indonesian characters.
"As an academic institution, UGM strives to always contribute to this movement as an event planning partner in Yogyakarta. The synergy of UGM here is expected to foster the socio-entrepreneurial spirit and encourage UGM academicians to create various digital solutions for the problems in society," said the Rector of UGM, Prof. Ir. Panut Mulyono, M.Eng., D.Eng., during the ignition of National Movement of 1,000 Digital Startups Third Batch on Saturday (5/5) at Master of Management UGM building.
From the beginning, UGM has been one of the supporters of this national movement. The Third Batch begins this year. Panut pointed out that UGM will continue to support this movement in the hope of more innovative and productive startups.
"The involvement of UGM since the launching up to the Third Batch of this national movement is expected to support the growth of digital startup in Indonesia by encouraging student, lecturers, alumni and the community in line with the spirit of UGM to create innovative products and be courageous in taking a step forward as a beginner business," he added.
The Innovative Academy is a program developed by Business Development and Incubation Directorate of UGM in cooperation with a technology-based business incubator. The Innovative Academy is held to encourage students to build useful technology startups to solve various problems in Indonesia.
"We encourage students from various departments to create something useful for the community to show our concern. Then, we cooperate with industries to realize the ideas of the students," explained the Director of Business Development and Incubation UGM, Dr. Hargo Utomo, M.B.A.
The National Movement of 1,000 Digital Startups is held in 10 cities in Indonesia, including Jakarta, Bandung, Surabaya, Yogyakarta, Semarang, Malang, Medan, Bali, Makassar, and Pontianak. In this batch, the priority sectors include agriculture, education, health, tourism, logistics, and energy.
As the first stage of this movement, the ignition aims to explain the main problems that exist in Indonesia. The participants will be selected to proceed to the second stage, which is networking. They are directed to strengthen the relationship with one another by forming a team and receiving basic knowledge before entering workshop as the third stage.
During the workshop session, the participants obtain the skills they need in creating a digital startup, including idea validation, market validation, and business models. Next, 1,000 participants proceed to the fourth stage, hacksprint, to create prototype products from the idea of application solutions. After that, 500 participants continue to the boot camp, an in-depth mentoring to prepare the product launch strategy as the fifth stage. Finally, 200 selected participants will join an incubation program for approximately 3 months, so that within 5 years there will be 1,000 digital startups. (Public Relations UGM/Astrid)