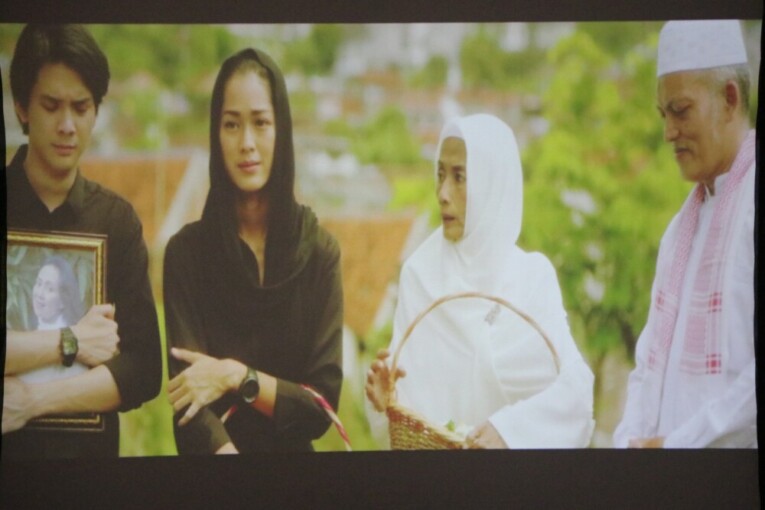 Rector of UGM, Prof. Ir. Panut Mulyono, M. Eng., D. Eng., and UGM students watched the movie by the title of Lima (Five) in auditorium of MM UGM on Friday (25/5). The film will run simultaneously on screen on 31 May to celebrate the Pancasila Day on 1 June.
Film producer, Gomulia Oscar, said the film involved five directors who presented different concepts of plot, but these all strengthened the value of Pancasila in the daily life of the Indonesian people. "We need to bring the ideology of Pancasila closer to society through films," he said.
Lola Amaria, one of the initiators of the film, expected that Lima would be welcomed positively by the people. "I hope the people would welcome it and they would go to the movies at the end of the month," she said.
Panut Mulyono also welcomed the film, saying, "Watching this film we can learn the lesson and follow the examples," he said.
According to the Rector, teaching of Pancasila value cannot just be done by rhetorics but direct practice among society, "so that our diversity remains strong and we become united," he said.
One fragment of the film is about an old woman who decided to revert to Islam when she was dying. A heated argument emerged between her children about the Islamic and Christian rules of funeral. According to Islam, all accessories worn by the deceased have to be removed while the mother had asked before she died not to remove her false teeth and to polish her nails. Her son also wanted to bury her in the ground while among society there is a rule that bans non-Muslims to bring the body into the grave of a Muslim.