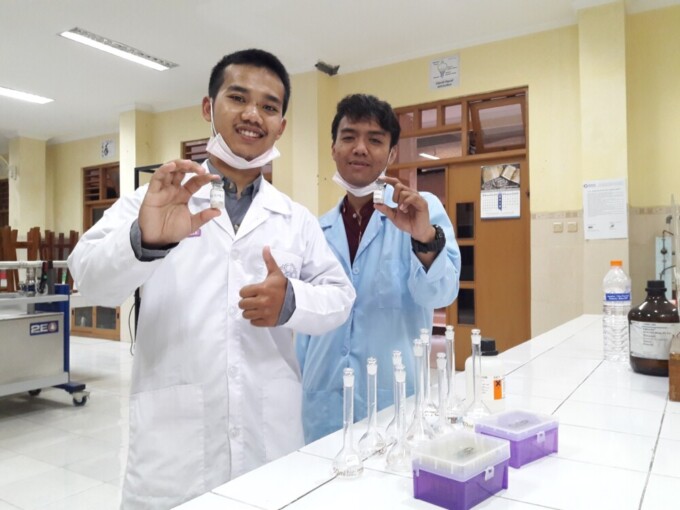 Three Chemistry students of Universitas Gadjah Mada (UGM), who are Hamid Rohma Setiawan, Jolang Budiarta, and Miya Agustina, have developed catalyst for biodiesel production. According to Hamid, the idea sprung from the development of catalyst of biodiesel production that is used only once. He came up with the idea to develop catalysts that can be used repeatedly.
The students finally registered the development to the Student Creativity Week (PKM) under the guidance of Prof. Jumina, Ph.D. It passed the selection process and received funding in April, Miya said the research was supported by the Ministry of Research, Technology and Higher Education. She explained that the research was still ongoing. "The research started in April and is estimated to finish at the end of July," she said.
The students develop chemical compounds of C-arilcalix[4]pyrogallolarena sulfonate which are derivatives of calixarenes compounds. These are one of organocatalysts. Research by Shaikh (2014) proved that the benefits of organocatalysts are: cheap and economical, easily obtainable, repeat use, compostable by living beings, non-poisonous, and environmentally friendly.
Jolang said from their research, they found that concentration of material at 4%(b/b) can produce 84% yield in a 4-hour reaction. This convinced them that this was in fact an alternative to optimising biodiesel production. Hamid added the material is also reusable. The research showed the product can still produce 82% and 80% yields in second and third usages.
Miya expected the research would help develop organocatalyst science. They wished the research would also support the development of biodiesel production that is environmentally friendly.