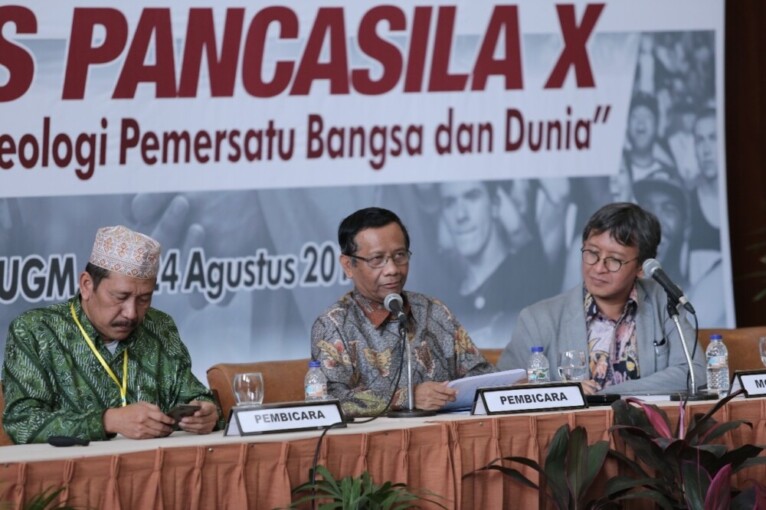 Commissioner of Steering Committee of Pancasila Ideology Teaching (BPIB), Prof. Mahfud MD., said Indonesia is not a religion state nor a secular state, but a religious nation state.
Being one of speakers of the 10th Pancasila Congress hosted by UGM in UGM Senate Hall, Mahfud MD, said Indonesia is not a religion state because a religion state implements the law of one religion only. Indonesia is not a secular state, either, because a secular state separates state and religious affairs entirely.
"Indonesia is not a religion state, neither a secular state, but a religious nation state," he said.
Mahfud said the faith in God is institutionalised in the form of religion. Religion regulates human lives, which can also come in the form of laws. Indonesia as a religious nation state does not apply the law of a certain religion, not even Islamic law as the religion of the majority.
Mahfud explained Indonesia does not base itself on one religion, but protects believers to do religious teachings as one of human rights.
"So, the state does not implement the law of a religion, but protects the faith of citizens to follow the practices of their religious teachings," he said.
The Congress also presented historian, Dr. Anhar Gonggong, and UGM professor, Prof. Purwo Santoso, as speakers.
Anhar Gonggong highlighted the position of Pancasila as a criticism tool that is getting more abandoned. In his opinion, during this time society only understands Pancasila as the state ideology and unifier.
"It's proper that Pancasila serves as the ideology and unifier. But to deal with internal and external flows, we forgot one of the main functions of Pancasila, which is a tool for criticism," he said.
Pancasila can be a tool to criticise things amidst various internal problems, even the strong globalisation issues.
"The problem was that whether Indonesia and its Pancasila would just go with the flow but then get carried away? Could Pancasila be a tool for criticism to deal with all those problems?" he asked.
Meanwhile, Purwo Santoso delivered issues on the harmony of religion and Pancasila. In his opinion, by opening opportunities for each religion would realise religious inclusivity. This becomes the right solution to the diversity of religions in Indonesia.