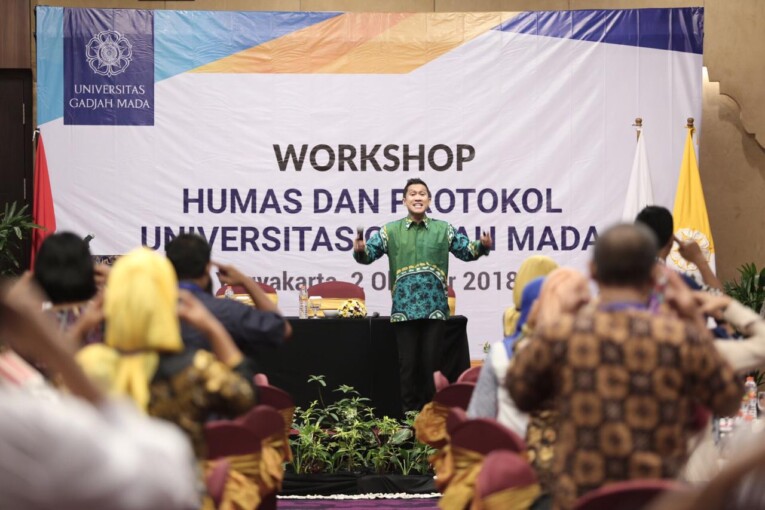 Over one hundred public relations and protocol staff from UGM attended a workshop on Tuesday (2/10) in Grand Mercure Hotel Yogyakarta.
Participants are taught on service of excellence, public information management, social media management, and protocol as well as lessons to become good Master of Ceremony.
"Public relations and protocol are getting more important nowadays because there are more demands at the university," said Rector's Secretary, Dr. Gugup Kismono, M.B.A., Ph.D.
He said not all UGM work units have special staff tasked for public relations officers. Everyone, however, ought to carry out the duty of public relations, he said, to build and maintain the image of the university.
"To build an image is getting more difficult due to technology advancement. In the past there was time lapse between events and reporting, but now the events have to be reported quickly," he said.
Resource persons of this workshop include Ferry Anggara (TVRI Yogyakarta), Gede Narayana (Chairman of Information Centre), Wisnu Nugroho, (editor-in-chief of Kompas.com), Yayat Hendayana (Head of Protocol section in Research, Technology and Higher Education Ministry), and Ninda Nindiani, profesional MC.
The workshop is a regular event done by Public Relations and Protocol Office of UGM to give new experience and insight to the staff in their duties.
As many as 142 participants from 20 faculties, schools, and work units joined the event. In addition, protocol competition is done between faculties.
"This year it is different from before because the function and spirit of public relations and protocol also keep growing.A protocol competition is held on the second day to practise what has been learned in the first day," said Head of Public Relations and Protocol, Dr. Iva Ariani, S.S., M.Hum.