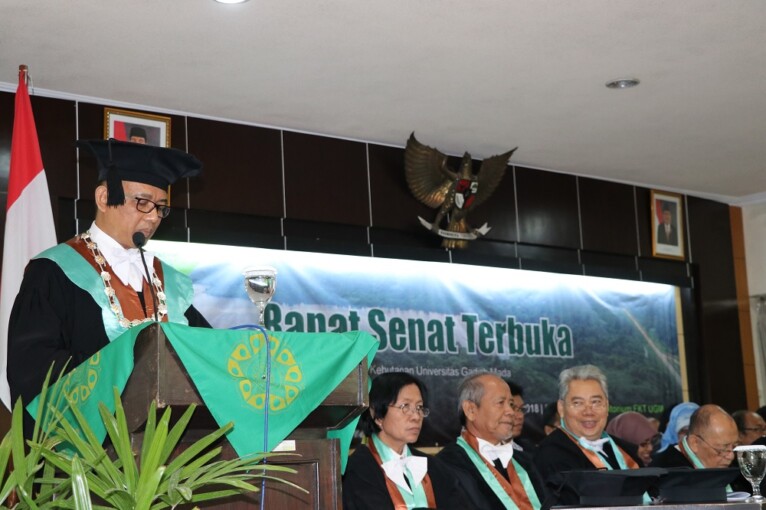 Commemorating its 55th anniversary, Faculty of Forestry UGM continuously strives to increase its role in science and technology development as a form of contribution to the nation, which includes supporting the realization of Indonesia's forestry glory.
"This anniversary is a momentum for introspection and self-evaluation of our role in science and technology development as a contribution to the nation," said the school's Dean, Dr. Budiadi, on Friday (10/26) at the campus.
When delivering the faculty's 2018 Annual Report, Budiadi stated that in the past two years Forestry UGM had made various efforts as a reflection on the issues that occurred in many sectors, including forestry. One of the efforts is managing Getas Forest as special purpose forest area for education and training by UGM.
Budiadi noted Getas Forest was one of the issues that separated the community from forest resources for decades, which resulted in an unequal reciprocity. Therefore, by making forest areas a part of the village ecosystem, it is expected that the forest communities and villages can benefit from the forest.
Then, by proposing the Jangka Benah strategy as a solution to overcome the polemics of oil palm plantations in forest areas. It targets the plantations managed by the community within forest areas and is applied gradually in two periods. The first period set monoculture oil palm plantations into agroforestry, while the second period reverted the area into a natural forest ecosystem.
Budiadi added the faculty also tried to be continuously involved in dialogues on changes to Forestry Law No. 41/1999 and Law No.5/1990. UGM strongly encourages the drafting of a new Forestry Law which is able to comprehensively address various problems and dynamics that arise.
Not only that, they also participated in active dialogues related to Indonesian forest area redesign. The faculty proposes to include social welfare into the main consideration, which corresponds to the spirit of social justice in every level of society.
On that occasion, Budiadi also reported that Forestry UGM had made various breakthroughs to strengthen its role in realizing the glory of Indonesian forestry. Academically, they designed a new curriculum to produce graduates with the ability to manage forest resources sustainably.
"We designed a new curriculum in 2018 for undergraduate programs that has implemented the national curriculum standard and output-based learning with measurable quality and achievement. The curriculum can also anticipate science and technology development, and it can be updated continuously," he explained.
A similar development was also applied to the master's programs. While for doctoral programs, they are currently redesigning the curriculum to implement the national curriculum standard and output-based learning.
Meanwhile, in research, the faculty continues to encourage its lecturers to increase academic research and publications. Budiadi noted that there was an increase in lecturer participation in international journal publications. This is linked to the faculty's support which succeeded in producing 80 publications.
"Of the 80 publications, 18 manuscripts are ready to be published in accredited national journals, while 62 others are targeted to be published in reputable international journals," he said.
After the Dean's presentation, the Secretary of Indonesian Peatland Restoration Agency, Ir. Hartono, M.Sc., delivered a speech entitled "Transformation of Excellence in Forestry Sector".