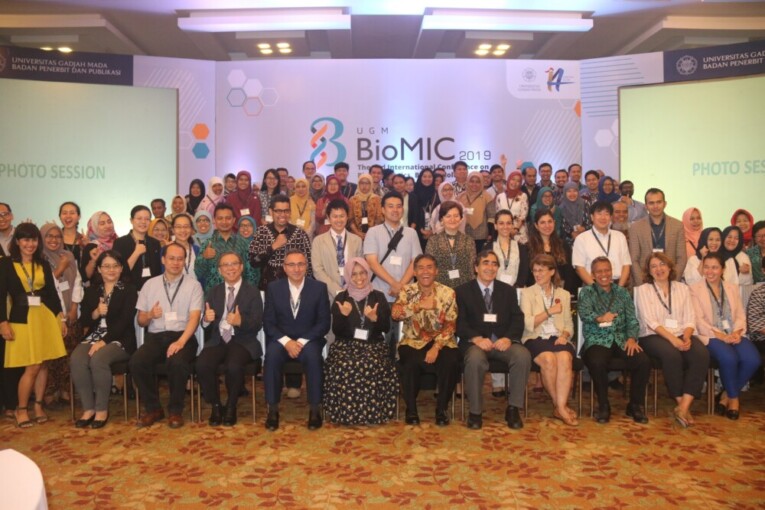 Rector of Universitas Gadjah Mada, Prof. Ir. Panut Mulyono, M.Eng., D.Eng., opened an international conference, Bioinformatics, Biotechnology, and Biomedical Engineering (BioMIC) in Eastparc Hotel, Yogyakarta, Thursday (12/9).
The international conference that runs every five year is organised by Publishing House of UGM (BPP UGM) from 12-13 September. It is attended by 129 researchers from 8 countries, namely, UK, Taiwan, Japan, Germany, Sri Lanka, Malaysia, France, and Indonesia.
The Rector in his remarks said UGM had the tradition of producing academic research in the country. Thus, he hoped the BioMlC this year would inspire other researchers and academics to make research with bigger impacts. "This event is about sustaining the consistency of our intellectual culture as academics and researchers," he said.
He mentioned that education was a way to gain a wider knowledge and understand the reality in society. But the knowledge would have no significance if not applied. "UGM wants to enhance the ideas on research and inspire researchers to report their research and publish it in a scientific journal or conference," he said.
Furthermore, the Rector touched upon the trend that is changing from medicine, biology, pharmacy to a bigger scale of biotechnology and bioinformatics. These areas of research have indeed generated wiser and healthier findings. "And we want to have more applicative knowledge to give a better quality of life through studies and sustainable research," he said.
BioMIC event chairman, Alva Edy Tontowi, Ph.D., said BioMIC opened collaborative work opportunities between institutions and researchers that they can build an academic network, in addition to increasing partnership in the country or abroad.
He explained BioMlC had the goal to facilitate various types of research and discussions on disciplines related to Bioinformatics and Biological Data Mining, Biomedical Engineering and Technology, Biomedicine, Biomolecular and Biotechnology, Drug Development and Public Health.
Further, Tontowi said as many as 23 speakers from home and abroad participated in the event. "We believe that these researchers would enrich the conference with their presentation related to bioinformatics, biomaterials, biotechnology, and biomedical engineering," he said.