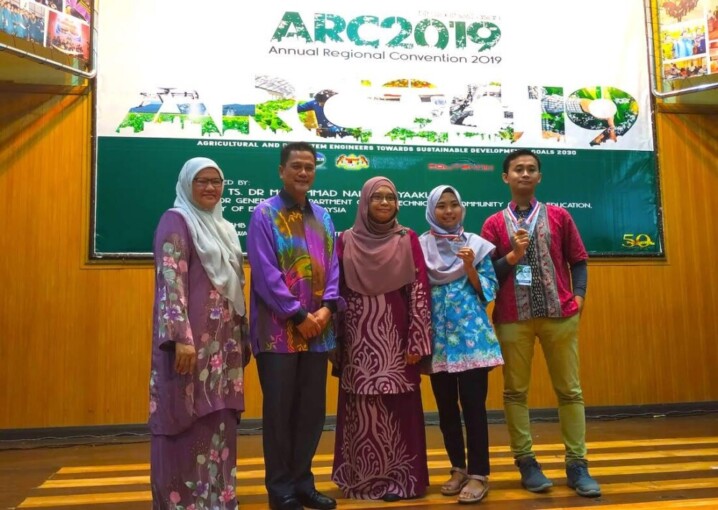 Agricultural and Biosystem Engineering UGM students have earned an international award in Agricultural Engineering Annual Regional Convention (AE ARC) 2019, running from 22-25 September 2019 in Politeknik Kota Bharu, Malaysia.
It was Anjar Firmansyah who earned a gold medal and Mira Aprilia Nur Fadilah who earned a silver medal in the annual competition for agricultural engineering students in ASEAN.
Both earned the awards during the scientific presentation competition, themed Recent Issues in Agricultural and Food Engineering.
Anjar Firmansyah presented Role of Agricultural Mechanization towards Sustainable Development Goals, and was guided by Dr. Andri Prima Nugroho. Meanwhile, Mira Aprilia presented Sustainable and Productive Land and Water under the guidance of Dr. Murtiningrum. They competed against 16 contestants who were university representatives from four countries, namely, Malaysia, Thailand, Philippines, and Indonesia.
"I did not expect to win this competition because the topic to be competed was given just one day before presentation. Alhamdulillah, I was able to do my best," said Anjar in a release received on Friday (27/9).
The gold and silver medals were presented by President of Malaysian Society of Agricultural and Food Engineers (MSAE), Prof. Rosnah binti Shamsudin, and Director of Politeknik Kota Bharu, Tuan Kamaludin Bin Daud.
Andri Prima Nugroho commented that the presentation competition in AE ARC was a prestigious one because the participants were required to be ready to discuss recent issues related to Agricultural Engineering in their respective countries. Thus, understanding, knowledge and argument ability of the participant was a very determining factor.
"Thank God, both contestants from UGM have given their best performance," he said.