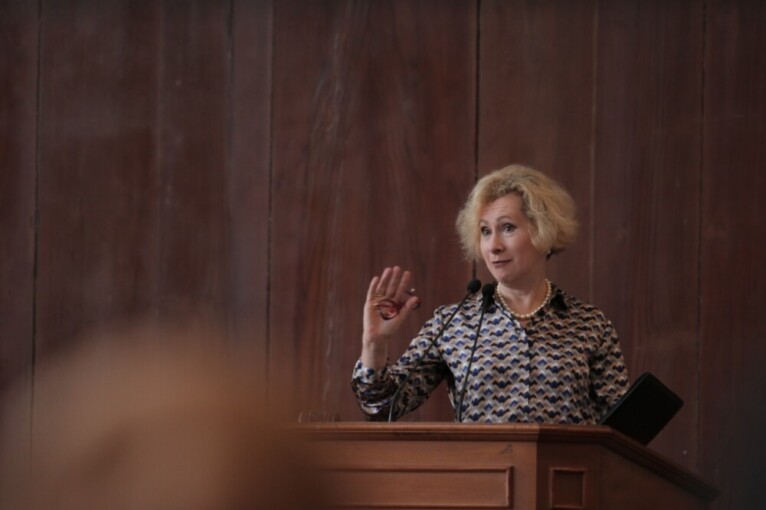 UGM presented Russian Ambassador to Indonesia, H.E. Lyudmila Georgievna Vorobieva, in Ambassadorial Lecture event, themed Russia in the Contemporary Global Politics: Its Power, Its Role, and Its Leadership on Friday (8/11) in UGM Senate Hall.
The ambassador described Russia and its role in contemporary global politics. She explained the projection of Russia's strength and roles as a world power. She regretted the Western media reports, however, saying Russia was an evil state that has the tendency to attack other states. Amidst the global situation marked by the tendencies toward unilateralism, Russia plays a significant role to counter that.
The different stance between Russia and the US and the Allies is based on Russia's commitment to respect state sovereignty as an important principle in international relations.
"When you see the media reports, Russia is often depicted as an evil state. This is not true. Russia plays a significant role in maintaining the world peace," she said.
She added Russia still became a big power in the world. With its oil and natural gas reserves being the largest, Russia is an important economic partner for the European countries. Under the leadership of President Vladimir Putin, Russia has the confidence to play its role as a big power beside the USA.
Furthermore, the Ambassador talked about Russia – Indonesia bilateral relations that had long remained and how to develop them not just for both of them but also to promote a better world.
"As you already knew, Russia and Indonesia had a good relations during the terms of President Soekarno and he often visited Russia," she said.
This good relations, she added, can also be seen in the increasing number of Russia tourists visiting Indonesia and vice versa. She hoped the increasing understanding of Indonesian people of Russia would improve the bilateral relations.