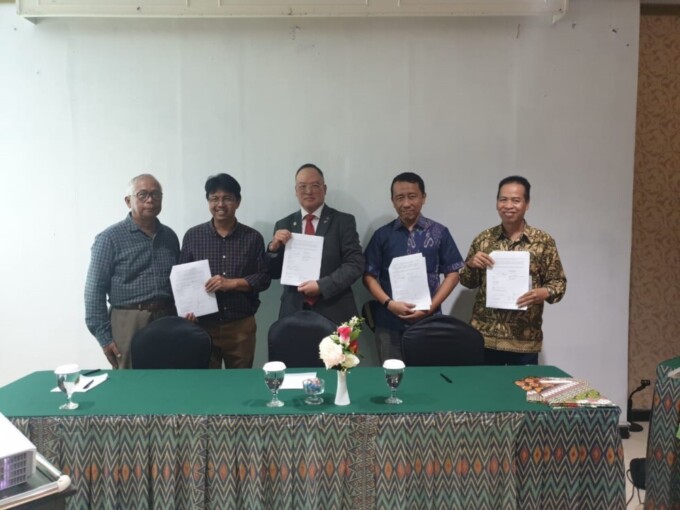 Gama Multi Group (PT Gama Multi Usaha Mandiri) and Finix76 (digital startup and ecosystem builder) hosted a business networking event as well as an agreement signing with Eightwire, a New Zealand integrator data company, and KILSA Global (Korea Innovation LaunchPad in Singapore Association), market entry specialist, on Wednesday (18/12) at UC UGM.
The event has the purpose to support a technology startup ecosystem that is advanced and collaborative in Indonesia. These companies will build a business network, particularly in digital technology in Asia Pacific and globally.
Ibnu Gunawan, Director of Gama Multi Group, explained the business that was developed by Gama Multi Group and subsidiaries in digital startup. Later, Finix76 presented their startups that run in education technology, blockchain, cybersecurity and Industry 4.0. The presentation was made by founders, Siva, Atina and Akhila, Vice President Public Relations of Finix76.
Mr. Jonathan Cheung, Managing Director of EightWire Asia, explained business and technology of big data integration.
Other presenters were Ardhayadi SE, MA, former Deputy Governor of the Bank of Indonesia, and Senior Advisor of Finix76, who described the development of talent digital in Indonesia to address the digital era.
According to the Public Relations Officer of Gama Multi Group, Indah Subadra, the event was joined by digital startups joining Finix76 as well Head of Bank of Indonesia of Yogyakarta branch, Hilman Tisnawan.
"Hopefully, the collaboration in the regional and global levels can be achieved to deal with the rapid development in technology amidst Industry 4.0," said Indah.