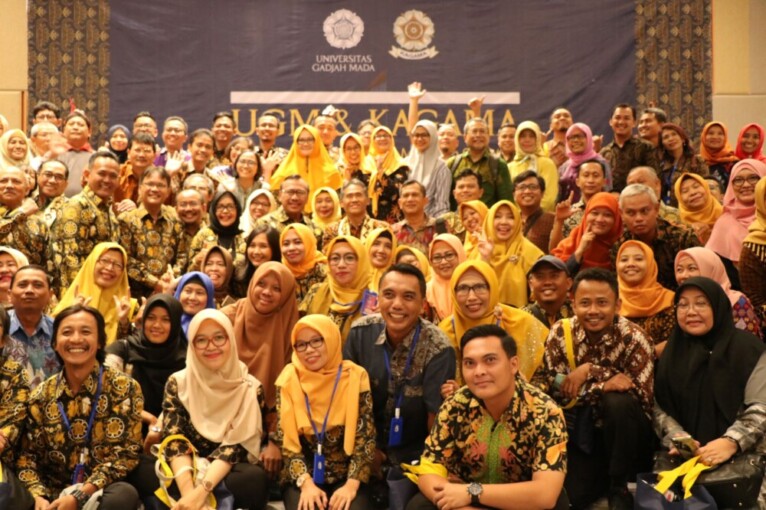 To support regional development, UGM greets its alumni in Lampung Province on Saturday (3/14) at the Golden Tulip Springhill Hotel. There were around 300 alumni attended and had an audience with the UGM leadership, the Governor of Lampung, the Regent of Pesawaran, the Regent of Pringsewu, and the Regent of Tanggamus.
On this occasion, UGM and Gadjah Mada Alumni Family (KAGAMA) signed a collaboration as a form of support development. Besides, there was also a signing of the cooperation agreement between UGM and Pasawaran Regency, UGM with Pringsewu Regency, and UGM with Tanggamus Regency.
UGM Chancellor, Prof. Ir. Panut Mulyono, M. Eng. D. D. Eng., IPU, ASEAN Eng. stated that UGM had proven some real contributions. The contributions are in the embodiment of producing excellent human resources and taking part in the fields of education, government, politics, entrepreneurship, or other areas. Thus, there are significant results of contribution from UGM Alumni to support the inspirable reputation of UGM.
According to him, in almost all countries, UGM alumni (KAGAMA) are scattered and occupy strategic positions that contribute to determining policy direction and moving the nation's wheels of progress.
"We are very aware that no university can be profound, outstanding, reputable in the global world without the support of alumni. Therefore, the support of alumni is significant for UGM progress," he said.
At present, there are more than 300 thousand alumni of UGM since the first establishment on December 19, 1949. These various alumni have made achievements, both as president, vice president, minister, deputy minister, ambassador, CEO, businessman, educator (teacher and lecturer), governors, regents, farmers, and others.
The Chancellor said that their real action showed their record of education journey at Bulaksumur campus. Whereas in the international arena, UGM in the last three years has been able to jump in the world ranking system, QS from the 501 worlds ranking to 402, then 391.
"This year, UGM got 320th global rank position, this is certainly a very significant achievement," he said.
Chairman of the Provincial KAGAMA Lampung Regional, Dr. Soeradi Soedjarwo, is pleased and proud to have the honor of being the host of the UGM Greet Alumni this time. UGM and other Regional Management of KAGAMA Lampung carried out the synergistic activities in two days with three locations in Bandar Lampung City, Metro City, and Central Lampung Regency. This activity expected to produce a significant contribution to regional development in Lampung Province and HR alumni development.
"This activity is certainly to support regional development throughout Lampung Province. Therefore, we invite local governments to work together to support regional development so that KAGAMA. I hope UGM produces people who are able to actualize themselves to continue working in the form of shared thoughts, concepts, and concrete actions," Soeradi said.
In addition, Soeradi said that the KAGAMA Lampung Relief currently has around 1,000 UGM alumni. There are 18 Branch Managers (Pengcab) and active communities of KAGAMA Lampung members.
"From the membership which is very interesting from a scientific point of view, KAGAMA Lampung membership comes from almost all branches of science. Meanwhile, in terms of age, the junior and senior interact actively through social media, especially with the development of information technology that makes communication between members easier," he added.
Author: Agung Nugroho
Translator: Natasa A