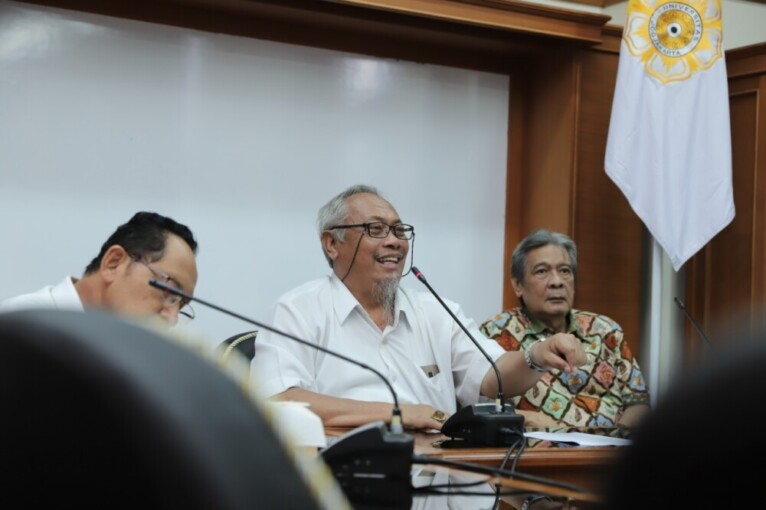 The UGM Council of Professors (DGB) will hold a Workshop on Klitih Behavior and Peace in Yogyakarta on Wednesday, March 18, 2020. The workshop considered a form of UGM's concern in efforts to prevent crime and make peace in Yogyakarta.
"We are rushing against the clock because this phenomenon is still happening in Jogja," said Chairman of the UGM Professor Council, Prof. Drs. Koentjoro, MBSc., Ph.D.
Klitih is a term to refer to the street crime committed by teenagers, even though the word itself has the meaning of leisure time activities.
People and citizens among Yogyakarta have widely discussed this behavior and citizens because it has happened several times to take casualties.
Koentjoro explained that the handling of behavioral attitudes requires serious efforts from the government, education, and the community. In this case, the UGM Council of Professors expands thoughts or views on the restoration of the justice system and provides input to stakeholders regarding current issues and their resolution.
In this workshop, Koentjoro will convey a key speech. Besides, UGM also presented a series of speakers, including Professor of the Faculty of Law, Prof. Dr. Marcus Priyo Gunarto, S.H., M.Hum., Director of DIY Regional Police Community Development, KBP Anjar Gunadi, and Chairman of the High School Principal Conference, Drs. Maman Suherman, M. Pd.
Through this event, we all expect that there will be solutions and thought contributions produced to security and order in DIY.
"Klitih problem is a multidimensional problem with multiple aspects. UGM wants to compile all of these aspects into one, so hopefully, we will find the solutions," added the Secretary of DGB, Prof. Dr. R.M. Gunawan Sumodiningrat, M.Ec.
In connection with the outbreak of COVID-19, which made UGM take several preventive measures, including the reduction of activities involving large numbers of participants, at this workshop, the number of participants limited to around 50 people.
The participants came from academicians, representatives of junior high schools, high schools, and vocational schools, representatives of several government institutions such as the Ministry of Law and Human Rights DIY, Provincial Education and Sports Service and District Education and Sports Service, Non-governmental Institutions, and law enforcement agencies.
Some of the reviewed issues include the massive problem in DIY, threats to security, underlying issues that always reappear, as well as efforts that have or should be performed in the future.
Author: Gloria
Photo: Firsto
Translator: Natasa A