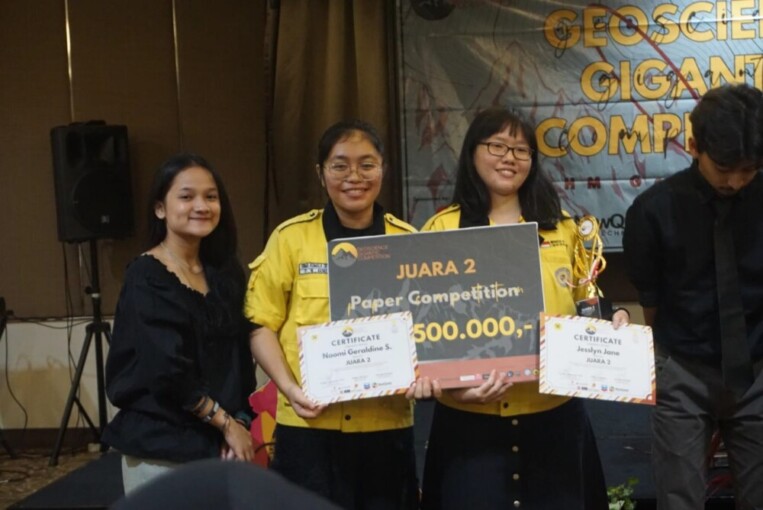 The UGM team triumphantly won a competition award in the 2020 Geoscience Gigantic Competition (GGC). UGM student team consisting of Jesslyn Jane and Naomi Geraldine Situmorang acquired second place in this national level paper competition.
They were at the 2nd place after eliminating ten other teams from diverse universities in Indonesia, including Institut Teknologi Bandung (ITB), Universitas Indonesia (UI), Universitas Pembangunan Negeri Veteran Yogyakarta (UPVY) and Pertamina University. Geoscience Gigantic Competition (GGC) 2020 is an annual series of events held by the Student Association of the Department of Geosciences, Faculty of Mathematics and Natural Sciences, Universitas Indonesia.
"The competition aims to facilitate undergraduate students of Indonesian tertiary study programs to compete in writing scientific with developing scientific reasoning skills, critical thinking, and communicate their thoughts scientifically," said Jesslyn Jane at UGM Campus on Tuesday (17/3).
GGC this year explored a theme entitled "Exploring Geoscience as Gigantic Science for Better Future." Meanwhile, the selection stage for the paper competition quite took a long time.
Jesslyn explained the UGM team had begun preparing by compiling an abstract since November 2019. In mid-February 2020 must have started to submit a full paper draft.
"The reviewers had ten best papers announced to present their papers at the Paper Competition: Geoscience Gigantic Competition 2020 at the University of Indonesia," she explained.
Naomi Geraldine Situmorang added that in this paper competition, the UGM student team gave their research title "Preliminary Study of Merapi Volcanic Eruption Ash on May 11 and June 1, 2018, Based on Mineralogy and Geochemistry". This paper discusses the importance of understanding the characteristics of Mount Merapi, not only magmatic type characters, but the phreatic and phreatomagmatic types must have consisted within the research.
"This research aims to enrich the information on the Mount Merapi Disaster Map so that it can broaden people's insights for disaster mitigation, especially those who live in Sleman and Boyolali," Naomi said.
Jesslyn and Naomi participating in this competition provided valuable experience. Moreover, it was such an honor to have an opportunity to present research results to various universities. Regarding the achievements, both of them feel very happy and are always grateful to be able to represent and uphold the name of the alma mater. Hopefully, UGM will keep improving its achievements in the upcoming years.
Author: Agung Nugroho
Translator: Natasa A