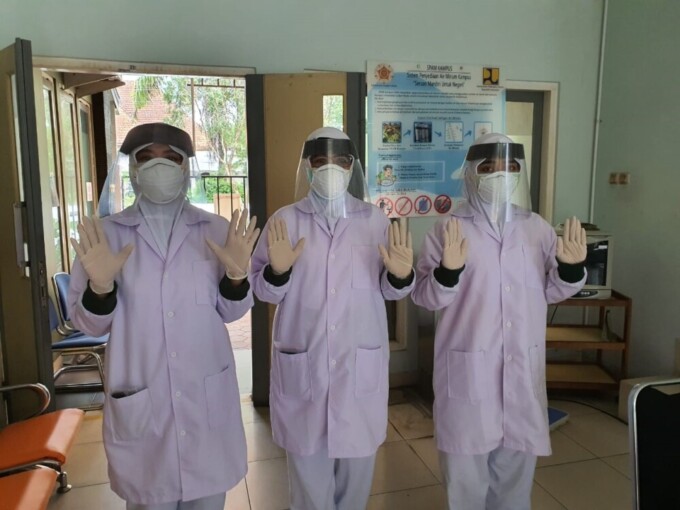 In order to suppress the outbreak of the COVID-19 or Coronavirus, Gadjah Mada Medical Center has prepared various programs for the community and the general public. In addition to encouraging healthy living, GMC prepares screening officers to check temperatures and examine patient complaints and travel history.
"So, before entering GMC, visitors must keep their body clean, and we encourage them by requiring handwashing with soap that has been provided by the UGM Directorate of Assets in front of the clinic," said GMC UGM Head, Dr. Yayuk Soraya on Friday (3/4).
In serving patients, GMC UGM is currently separating patients with a history of travel, fever, symptoms of respiratory diseases, and other infectious diseases. With these efforts, there is a shift in the flow for the patient during the examination.
"Patients are first directed to a waiting open-room so that if there is a disease germ, it will not spinning in the same room. This effort aims to avoid transmission," she explained.
She also said, for officers who work in the area of infection, they wear a complete Personal Protective Equipment (PPE) level 2. Whereas for officers in non-infectious regions, they are sufficient with PPE level 1.
"Routinely since this pandemic, we disinfect the room after each service at 13.00 and sterilize the spaces that are often used in contact with people with infections using UV lights every day," she said.
To reduce the outbreak of COVID-19, GMC also provides education to the broader community through Instagram @klinik_gmc and eliminates activities that are time-collecting and high-risk, such as eliminating activities in the fitness center. Besides, they also routinely roll and store all carpets and prayer tools in the mushola. Moreover, they disinfect the mushola floor before and after prayer time.
dr. Sauma Nurlina Amalia added that the number of patient visits decreased compared to days before the Coronavirus pandemic occurred. If on regular days, the number of visits reaches 6,000 patients per month, during the COVID-19 epidemic, the total number of visitors reached 5,700 patients.
"Yes, maybe the factors of students, lecturers, and students must learn and work from home. Even so, from this visit, students still dominated by 2900, while lecturers and employees were around 800," she explained.
Based on complaints, travel history, and contact history, Nurlina said GMC visitors lately were not entirely with allegations that led to COVID-19. GMC data for two weeks in March 2020 shows there are indeed 21 people who belong to the ODP (Insider Monitoring) category, but not all of them are from the community.
"For the number of visits is still balanced between patients with complaints of cold cough with patients controlling routine diseases such as diabetes, hypertension, and others. Even so, we hope for regular visits, and the numbers can slowly reduce," she said.
GMC UGM initially eliminated psychological and nutritional consultations, yet starting on Monday (6/4), it will reopen online. Meanwhile, to avoid the spread of the virus, services in dental clinics are excluded except emergency.
"As long as COVID-19 is still widespread, the registration service at GMC, which was originally 07.30-19.30 now only at 08.00 – 13.00 and for further information consultation, you can check on our Instagram and web," she added.
Author: Agung Nugroho
Translator: Natasa A