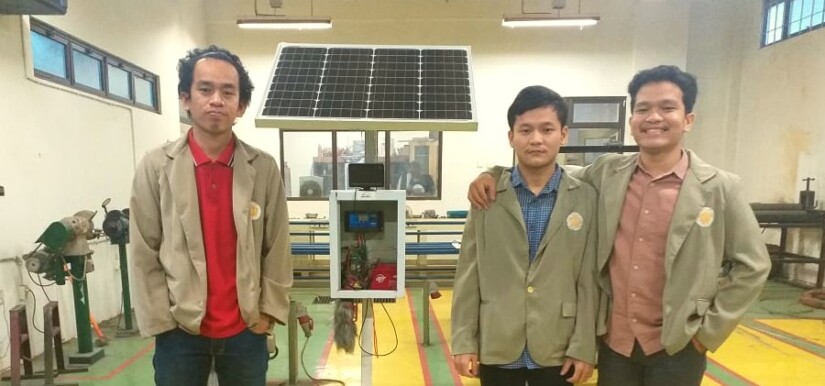 The student team from the Department of Agriculture and Biosystem Engineering (DTPB) Faculty of Agricultural Technology, Universitas Gadjah Mada ranked the first place in the Agritech Exhibition Scientific Writing Competition (LKTI) 2020.
In this online competition organized by Hasanuddin University, the team from UGM succeeded in obtaining achievement by submitting the innovation title "BIAMON: Microcomputer-Based Integrated Bio-Monitoring System with Cloud for Integrated Pest Control (IPM) in Agricultural Production". The innovations proposed by Sumardo Purba, Andi Telaumbanua, and Jaromasen Damanik Sumardo Purba (TPB 2016), Jaromansen Damanik, and Andi Telaumbanua under the guidance of Dr. Andri Prima Nugroho is considered relevant and can be applied to support the development of technology in agriculture as well as supporting the industrial revolution 4.0.
Sumardo explained the BIAMON prototype was an acoustic signal monitoring system from animal sounds. In the future development, we can use this innovation as an indicator in observing pest behaviour to apply the concept of integrated pest control.
"Animal sound signals have a unique frequency in responding to changes in environmental conditions, this is the idea in the development of this equipment," he explained on Thursday (9/7).
He explained how this system works by detecting acoustic signals of animal sounds in an outdoor farming environment. They used the microphone as a tool for capturing the message. It is connected to a microcomputer that is programmed to manage the sampling, storage, and sending periods of data from local storage media to the Cloud through the Internet network. Furthermore, voice signal data can be stored and organized in the Cloud to facilitate further management and processing.
"There has been a trial experiment for the observation of the acoustic signal of the Tonggeret (Dundubia manifera) and the Cricket (Gryllus assimilis) which mostly found in the cultivation of agricultural production plants," he said.
This monitoring system will be developed later by characterizing and identifying the behaviour of acoustic signals against the reality of pests and diseases in the field. The development of this system was at the Smart Agriculture Research Department of Agriculture and Biosystems of UGM in collaboration with UGM's Bio-Acoustic Research.
"It will have sustainable collaboration and multidisciplinary collaboration at Bio-Acoustics Research UGM which currently involves researchers from the Faculty of Biology, Agriculture, Agricultural Technology, and Physics Engineering," added Andri Prima Nugroho as a supervisor.
In the 2020 Scientific Writing Competition 2020, the UGM team won the title after setting aside various scientific papers and prototypes from multiple universities teams in Indonesia. In the final round which on 4-5 July 2020, the jury decided to rank the UGM team in the first position after competing with four other finalists.
Author: Ika
Translator: Natasa A