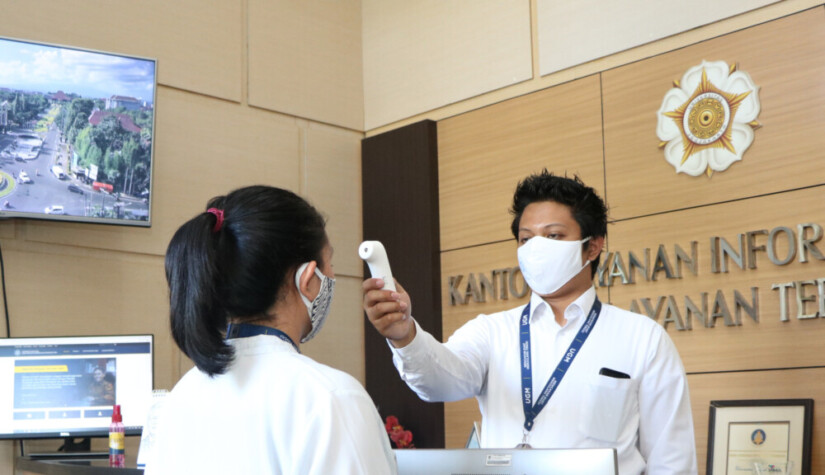 Prof. Dr. dr. Samekto Wibowo, Sp.S (K), Sp.FK (K), as a Professor in the Department of Neurology, Faculty of Medicine, Public Health, and Nursing (FKKMK) UGM, said information related to the thermo-gun could harm the brain is factually incorrect.
"Medical field has used Thermo gun for so long, and so far there have been no complaints. There are no reports of interference with the brain or other body parts," he explained on Monday (27/7).
Samekto explained that the function of thermo-gun is to measure human body temperature using infrared instead of using a laser as the viral news in recent days.
All medical devices mentioned Samekto, had passed clinical trials which means it is safe to use. Likewise, before humans use the thermo-gun, surely it has previously been through clinical trials to ensure its safety.
"Humans can use all medical devices or drugs, but before they use it, it must have passed clinical trials," he explained.
Procedure
Another interviewee is Professor of Physics Engineering UGM, Prof. Ir. Sunarno, M.Eng., Ph.D. He explained that the thermo-gun used to measure the human temperature at work by receiving far-infrared radiation from the body. The energy captured by the sensor transformed into electrical energy that later displayed in the form of digital numbers in degrees Celsius.
"Therefore, the thermo-gun does not emit infrared, but instead receives infrared radiation from the human body," he explained.
Human eyes cannot see this infrared radiation. However, they can only feel it as hot as body temperature.
Responding to viral news that says the thermo-gun is unhealthy for the brain when the laser is "fired" at the forehead many times, Sunarno said that was not true. The laser on the thermo-gun does not harm the brain because it uses low energy.
"There is not enough energy to damage the brain because it is on a non-ionizing frequency. But still, try not to stare at the light of the laser," explained the lecturer of UGM Physics Engineering.
The function of the laser on the thermo-gun only helps in determining the centre of measurement on the object instead of the temperature measurement function itself.
"Laser functioned as a pointer. It works the same as in the presentation for accuracy in objects. If you measure human temperatures at close range, so you don't need to use a laser, turn it off," he explained.
Unlike in the industry, the use of lasers is necessary to help the accuracy of direction on objects that are distant away, for example, in hot metal, the cable that has a short circuit and others.
Author: Ika
Photo: Ega
Translator: Natasa A