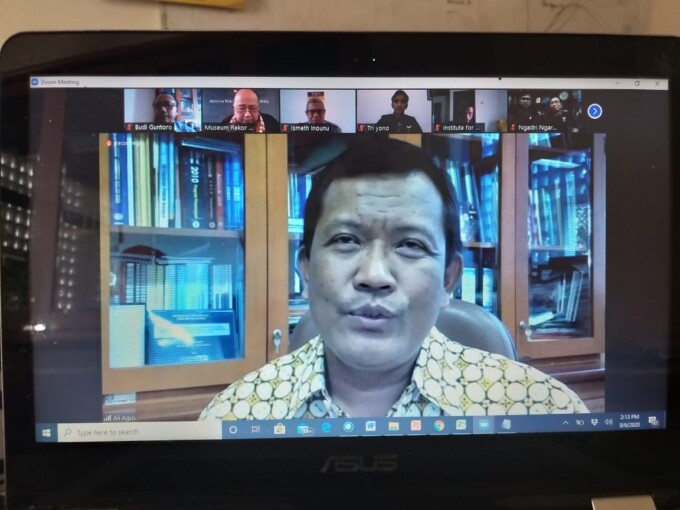 Prof. Dr. Ir. Ali Agus, DAA., DEA., IPU., ASEAN. Eng and Ir. Dyah Maharani, S.Pt., M.P., Ph.D., IPM, as two researchers from the UGM Faculty of Animal Science, received awards from the Indonesian Record Museum (MURI) at an online award ceremony on Thursday (6/8).
Ali Agus received the MURI award for research into the manufacture of a complete feed fermentation technology called "burger feed." In contrast, Dyah Maharani received an award for research related to DNA markers.
Ali Agus explained that he had developed the completion of feed burger fermentation technology for the last fifteen years. The development of feed technology based on the fact that many there are beef cattle breeders provide a feed from agricultural waste, which has relatively low nutritional quality.
"Commonly, beef cattle breeders provide feed in the form of straw, corn sugarcane, and concentrate feed derived from agricultural and industrial waste such as rice bran, coffee husks, cocoa, and so on," explained on Saturday (8/8).
In order to improve the nutritional quality of feed, Ali Agus developed a feed burger along with multi-microbes called feed burger sauce to enhance its nutritional quality.
When cows consume feed with the addition or treatment of feed burger sauce, their nutrition and digestibility increase, as in turn, it can increase livestock productivity.
"For beef cattle, it can accelerate livestock germination," he added.
Ali said that the feed burger is an accessible, affordable, safe, and useful technology. Feed burgers are made from straw, rice, wheat bran, molasses, and microbial solution. Straw is an easy and cheap material. The fermentation process also only lasts for 24 hours.
The Faculty of Animal Science UGM also had realized the manufacture of feed burgers when the Merapi eruption occurred in 2010. Animal feed burgers are a solution for providing quality animal feed for tens of thousands of cows belonging to farmers affected by the eruption.
Dyah Maharani, who also received an award from MURI, conducted a study that found a tool to elect chickens that would produce meat with unsaturated fatty acids, namely by using DNA markers in the Stearoyl-CoA Desaturase (SCD) gene. This gene itself appears as fatty acid metabolism.
"Chicken is believed to comprise unsaturated fatty acids which play a role in reducing low-density lipoprotein (LDL) or often referred to as bad cholesterol," she said.
This DNA marker has been patented at a Korean patent institute and helps chicken farmers choose the later cultivated chickens.
She revealed that the modern diet shows people's tendency to eat foods that trigger an increase in cholesterol in the blood. Without a balanced diet, this consumption behavior can lead to degenerative diseases like coronary heart disease, diabetes, and high blood pressure.
"With a good selection, the chickens will produce meat that contains unsaturated fatty acids which are also good for human health," explained Dyah.
Author: Gloria
Photo: Faculty of Animal Science UGM
Translator: Natasa A