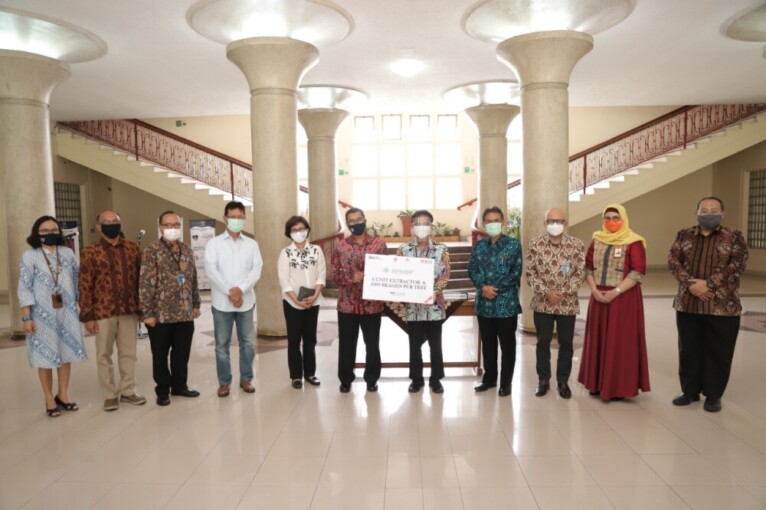 PT Bank Negara Indonesia (Persero) Tbk handed over aid worth Rp1.85 billion to UGM in the form of 1 unit of Extractor Ribonucleic Acid (RNA) machine and 2000 PCR Test Reagents in an efforts to help for tackling the Covid-19 pandemic outbreak in Indonesia.
Moh Hisyam, as the Head of Region BNI Yogyakarta Regional Office, said that the aid worth Rp1.85 billion was collected as a contribution to overcoming Covid-19. Beforehand, various assistance in the form of PCR agents was also given to several hospitals such as Sardjito Hospital.
"We are very grateful to be having a partnership with UGM. Thank you for receiving our aids and conducted duties to tackle the transmission of Covid-19 jointly," said Hisyam at the UGM Hall on Tuesday (27/10).
On this opportunity, UGM Chancellor, Prof. Ir. Panut Mulyono, M.Eng., D.Eng., expressed his appreciation and gratitude to BNI, which for the umpteenth time handed over aid during the pandemic period. "We will optimally make the best use of this assistance," he said.
In his remarks, the UGM Chancellor revealed that this assistance of PCR reagents is extremely needed to examine the data collection and mapping of patients infected with Covid. The current covid PCR detection tool is a trusted tool to determine whether someone is infected with Covid-19 or not. However, UGM has also developed a Covid-19 detection tool through a breath sample called GeNose, which is currently stepping to its final testing stage. "Hopefully, the cost of the once test will be much cheaper," he said.
Author: Gusti Grehenson
Photo: Firsto
Translator: Natasa A