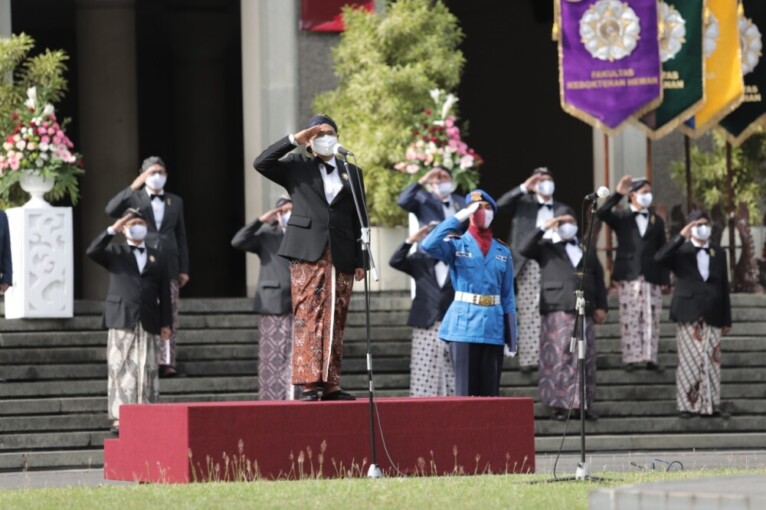 Universitas Gadjah Mada organized an online ceremony of Heroes Day commemoration on Tuesday (10/11) at the UGM Hall.
In this ceremony, UGM Chancellor, Prof. Ir. Panut Mulyono, M.Eng., D.Eng., IPU, ASEAN Eng., encourage the young Indonesian generation to advance their effort as present's heroes who have a great spirit of collaborative hard work, creatively, and innovatively.
"People are necessary to carry out consistent and persistent hard work to be successful. Creativity and innovation are important to come up with new ideas that are unique and relevant to society's needs," he explained.
The National Heroes Day commemoration this year raised the theme, namely "My Heroes of All Time". Panut added that this theme has two meanings.
The first meaning is that the predecessors who have sacrificed, fought to release the nation, and built the nation's pillars and Indonesian state are heroes who must be remembered and reflected throughout the ages.
Meanwhile, the second meaning is that all generations throughout the ages can be heroes in their respective times.
"To be a hero nowadays does not mean you have to fight against the invaders, but fighting in their respective fields. For instance, to fight poverty, underdeveloped education, and so on to strengthen national sovereignty and build a more civilized and prosperous society," explained the Chancellor.
He also said that fighting in the present requires a strategy and capital that is very distinctive from the fight for independence because of the different challenges.
Nowadays, people and the young generation face no less great challenges than during the independence fight back then. Even the fight nowadays is getting bigger. This condition happens because today's environment is increasingly globalized, competition is more open, and human life needs are increasingly complex.
Panut revealed that young people with startups are examples of present exertions. Starting from small steps and big ideas, they help farmers, ranchers, tourism actors, and others become more empowered in their work and improve their economy.
UGM remains to encourage students to work hard, be creative, and innovate by developing startups that are beneficial to society.
Some pioneer examples are first, Andil, a joint-based investment platform for developing the agricultural industry. Secondly, Bantuternak, a digital investment application that focuses on empowering farmers through channeling capital and mentoring breeders. Then, Pijar Psikologi provides easy educational tools on mental health and psychological issues that are more accessible and other works that are believed to benefit the Indonesian people.
Another example of the Hero's Day theme implementation is UGM lecturers' innovation in creating various medical equipment and other research products for handling the Covid-19 pandemic. Also, the persistence of medical and paramedical personnel at the forefront of handling the Covid-19 pandemic.
He highly hoped that one day, in the future, UGM lecturers, students, and educational staff can contribute more work results that will help solve society's problems and provide prosperity to the nation's.
"Let's advance our passion for work, maximize the capacity we have. We help each other to accomplish the prosperous level of the Republic of Indonesia," he concluded.
Author: Gloria
Translator: Natasa A