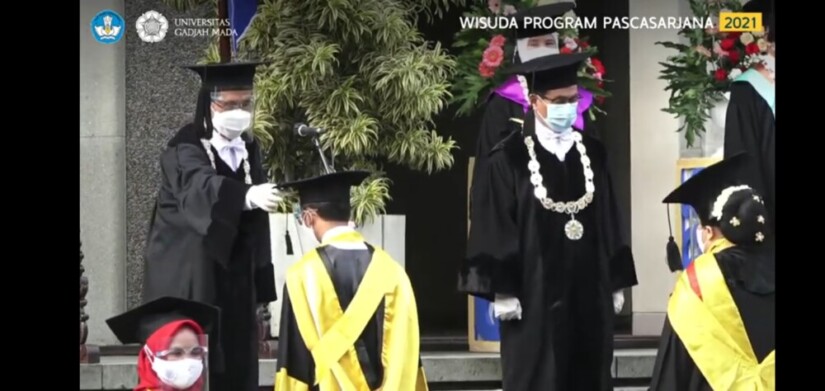 The UGM Chancellor officially inaugurated 751 graduates in the online and finite-offline Graduation Ceremony for Period II of the Academic Year 2020/2021 at the UGM Hall on Wednesday (20/1).
UGM has successfully graduated 647 Masters Program grads, 53 Specialist Program graduates, and 51 Doctoral Program graduates in this graduation ceremony.
Prof. Ir. Panut Mulyono, M.Eng., D.Eng., IPU., ASEAN., Eng., as UGM Chancellor, encouraged the graduates to later contribute to strengthening national development handling the Covid-19 problem in the country.
"As a UGM alumnus, the mandate to use your knowledge should remain with you in giving people valuable benefit and work with multiple elements of society to achieve noble goals," he explained.
Panut said that the Covid-19 pandemic had a broad impact on the world's nations' entities, including Indonesia. The new coronavirus outbreak has made economic growth at the point of financial collapse. Industry and various business enterprises are undergoing difficulties, and there is also a threat of layoffs befalls in various sectors.
Panut also added that even so, the Covid-19 pandemic has made all parties united. It strengthens community solidarity and concern, revives the spirit of cooperation that had seemed to have gone, and boosts creativity and innovation. It is proven that there are positive results on research collaboration between universities and partners in the fields of vaccine and drug discovery, medical devices, and economic recovery efforts.
"For ladies and gentlemen who graduated today are absolutely expected to take part in these efforts," he said.
Panut believes that if we can maintain the social asset, creativity, and innovation that we have gained from the Covid-19 pandemic momentum, it is likely that the Indonesian nation will prosper and become a superpower country respected by the world.
"Lastly, congratulations on the achievements that you have successfully gained in this campus as your beginning to lead you to your marvelous journey in the future," he concluded.
Author: Ika
Translator: Natasa A