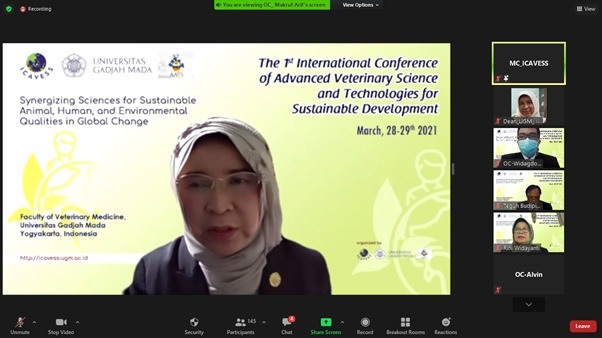 UGM Faculty of Veterinary Medicine (FKH) organized an International Conference of Advanced Veterinary Science and Technologies for Sustainable Development (ICAVESS) on 28-29 March 2021. ICAVESS is an international conference as a sequential event from the Asian Association of Veterinary Schools (AAVS) supported by the World Organization of Animal Health (OIE) from Asia pacific regional representation. This conference meeting was held online due to a pandemic on 26 January 2021 with the theme of "Synergizing Sciences for Sustainable Animal, Human and Environmental Qualities in Global Change".
Several speakers invited to this online conference were Prof. Michael P. Reichel (Department of Population Medicine &Diagnostic Science, College of Veterinary Medicine, Cornell University, Ithaca, New York, USA), Prof. Carlos Hermosilla (Justus Liebig Universitaet Giessen, Germany), and Assistant Prof. Dr. Chenpop Sawangmake (Veterinary Stem Cell and Bioengineering Innovation Center [VSCBIC]; Faculty of Veterinary Science, Chulalongkorn University, Thailand) for day one.
On day two, the speakers invited were: Prof. Masatoshi Hori (Graduate School of Agriculture and Life, Uni Tokyo, Japan), as a president of AAVS, P.D. Dr. rer. Nat. habil. Sonja Kleinertz (IPB Faculty of Fisheries and Marine), and Prof. Dr. drh. Wayan Tunas Artama (UGM FKH).
Those were speakers from various research areas in animal health, including aquatic animals and the environment. Not to mention, UGM Chancellor, Prof. Ir. Panut Mulyono, M.Eng., D.Eng., in his remarks, stated that it was necessary to collaborate on several various scientific fields as a provision in the upcoming future.
This webinar also discussed the main topic regarding curriculum development related to human and environmental health within veterinary medicine education in several universities in Asia. This topic has become a priority discussion of AAVS deans and the Association of The Faculty of Veterinary Medicine of Indonesia (AFKHI) in preparing veterinarian graduates in the Asian region. This effort aims to prepare veterinarians to encounter one health challenge consisting of human health, animal health, environmental health with all social-economy aspects within.
Due to a pandemic, the education learning system had shifted from offline to online. However, veterinary medicine's professional education still had to be offline to meet motoric competency and behavior as an inseparable part of veterinary medicine education. In AAVS, OIE also designed the education process standard, which can guarantee international veterinary medicine graduates (Day One Competency for Veterinarian). Dean of FKH UGM, Prof. Dr. drh. Siti Isrina Oktavia Salasia revealed that UGM FKH collaborated with several abroad institutions in various research activities. In 2020, UGM FKH lecturers also actively engaged in the Asia Pacific Consortium of Veterinary Epidemiology (APCOVE) and 40 veterinary epidemiologists from countries in Asia, Australia, and New Zealand.
In this discussion, Dr. Isrina explained that the ICAVESS theme this time not only discussed the ideas and knowledge scope but also discussed the portrayal of the real action in preparing veterinarians to create a comprehensive and sustainable health principle.
"We should be wise-responded for the development of science and technology by preserving the environmental sustainability that the next generation can inherit in the future," she explained.
The Head of the organizing committee of ICAVESS, Dr. drh. Widagdo Sri Nugroho M.P. revealed more than 300 people registered for this webinar. It also involved 130 presenters of papers in parallel classes from Pakistan, Malaysia, Thailand, the Philippines, Japan, Hongkong, and Indonesia. Besides, there were also varied backgrounds in the work of participants in the presentation of parallel session papers. They consist of educational institutions, research, or conservation institutions / non-governmental institutions.
The committee of the event also collaborated with several international publishers to release the selected articles to reputed international journals such as Journal of Veterinary Science (Q2), International Journal of One Health (Q3 Scopus), Journal Biodiversitas (Q3) dan Journal of the Indonesian Tropical Animal Agriculture (Q3), and international proceeding Bioweb Of Conference. Hence, this international conference could be highly beneficial, precisely for presenters or writers.
Author: Hakam