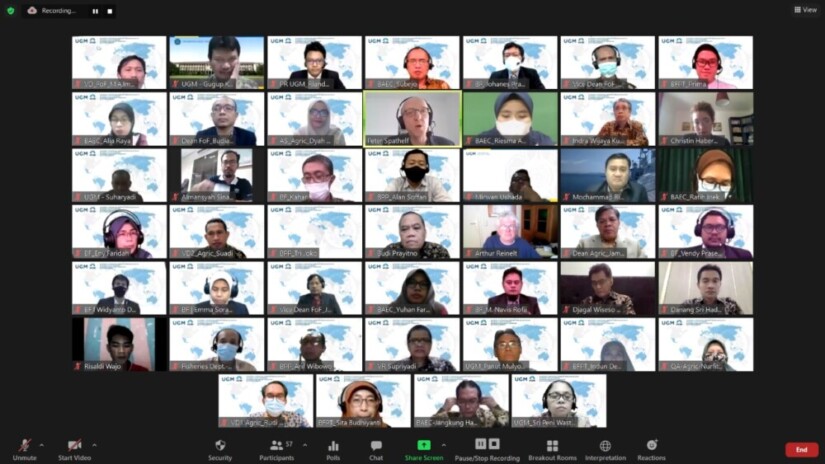 An international accreditation institution based in Germany and recognized by the European Quality Assurance Register (EQAR) visited UGM for four days, starting from 22-25 March 2021. It was considered a visit from the accreditation institution of ASIIN. ASIIN is an institution for accreditation with 14 study fields committees established in 1999 that intended to grant recognition and master support for international higher educations in implementing their quality through accreditation procedure at the institution level. They visited four bachelor's study programs, including Forestry Study Program, Crop Protection, Agricultural Extension and Communication, and Fishery Products Technology.
Dr. Widya Wasityastuti, M.Sc., M.Med.Ed., Ph.D., as a head of Quality Assurance Section of Research and Community Service, UGM Quality Assurance Office, revealed that there were no changes on its accreditation process from offline to online. "However, if an offline visit only lasts for two and a half days, in an online visit, it will be up to four to five days due to the adjustment of time zone between German and Indonesia," she explained.
Widya also mentioned that UGM faculties and its study programs that later will be visited had prepared their virtual video information in video, website, and other alternative media to portray curriculum, learning system, laboratory, human resource, infrastructure, and supporting facilities. She added that this preparation, including procedural steps, system, technology, and support networks, has been well-prepared since November 2020.
"This online visit, UGM could reveal its capacity including the support system and technologies," she added.
As the implementation of quality and accreditation preparation, faculties and program studies always coordinate with stakeholders such as students, alumni, graduates, and other industry or cooperation partners.
This online accreditation was conducted via Zoom meeting. The assessors, ASIIN program manager, and stakeholders from each study program attended the meeting. In its process, the assessors consisted of Prof. Dr. Peter Spathelf from Eberswalde University for Sustainable Development, Prof. Dr. Wolfgang Kath-Petersen from University of Applied Sciences Köln, Prof. Dr. Mochammad Riyanto from Bogor Agricultural University, Dipl.-Ing. Arthur Reinelt, from Bavarian Forest National Park, Almansyah N. Sinatrya, Universal R&D Manager of PT Tempu Rejo, and Risaldi Wajo from Hasanuddin University deeply reviewed each study program based on the document of the Self Assessment Report submitted.
Author: Gloria