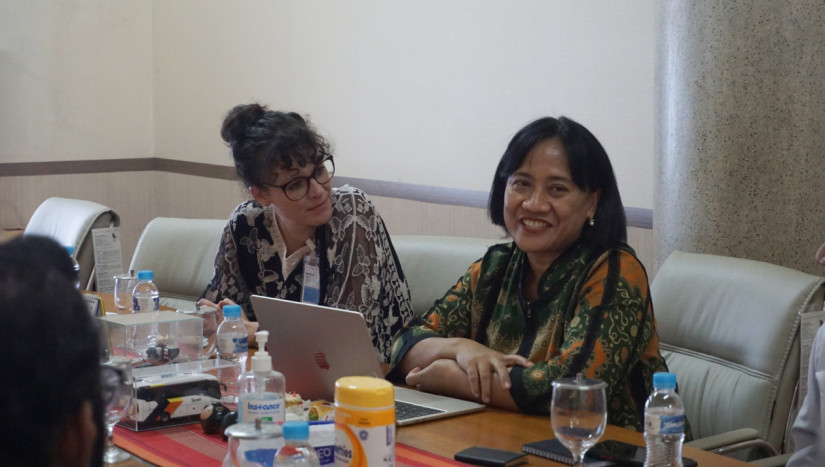 A total of 21 experts from 11 countries discussed global agricultural land restoration amidst the threat of a world food crisis due to the impacts of climate change and land conversion. 
The meeting, packaged in the G20 Global Land Initiatives Stocktaking Workshop titled "Trigger Change! Innovative Agriculture Solutions for Land Restoration, a Global Course," took place at the UGM Faculty of Geography from November 7 to 10. 
Some experts came from the Netherlands, France, Bangladesh, Switzerland, Canada, India, Colombia, Ghana, Ecuador, Nigeria, and Cambodia.
The Dean of the UGM Faculty of Geography, Dr. Danang Sri Hadmoko, stated in his remarks on Thursday (November 9) that this workshop is a collective effort to address various challenges in land restoration worldwide. 
"This workshop invites 21 participants from various backgrounds, both practitioners and academics, to address the scarcity of global agricultural land," said the dean.
Moreover, Dr. Hadmoko emphasized that this meeting of experts also marks an important moment in the collective effort to address one of the most pressing challenges currently, encouraging governments, academics, communities, and the private sector to collaborate in restoring land for a sustainable future. 
"Experts will discuss, share innovative ideas, and encourage collaboration to revolutionize farming practices," he explained.
According to the dean, the meeting results are expected to produce resolutions and recommendations as a common goal to find inventive solutions that restore agricultural land and pave the way for sustainable livelihoods. 
"We also want efforts in the conservation of biodiversity and climate resilience. From the UGM Faculty of Geography, we are providing examples that are expected to allow all global partners to learn from the good practices we have done by inviting them to see the Wanagama forest, which was once critical land and is now productive and educational," he added.
One of the participants representing the United Nations Convention to Combat Desertification (UNCCD), Karen Sudmeier, met the UGM Vice-Rector for Education and Teaching, Professor Wening Udasmoro, to talk on the development of learning modules and the launch of a Massive Open Online Course (MOOC) program that will provide access to higher education for Indonesian and global students. 
"The result of the meeting is UGM's commitment to continue the joint mission of collaborating with organizations at the ASEAN level to support the UNCCD program," said Professor Udasmoro.
Several partners who will be invited to join in the development of sustainable agriculture include the Southeast Asian Regional Center for Graduate Study and Research in Agriculture (SEARCA), Southeast Asian Ministers of Education Organization (SEAMEO), Association of Southeast Asian Nations University Network (AUN), and the German Academic Exchange Service (DAAD) to support the UNCCD program.
Author: Gusti Grehenson