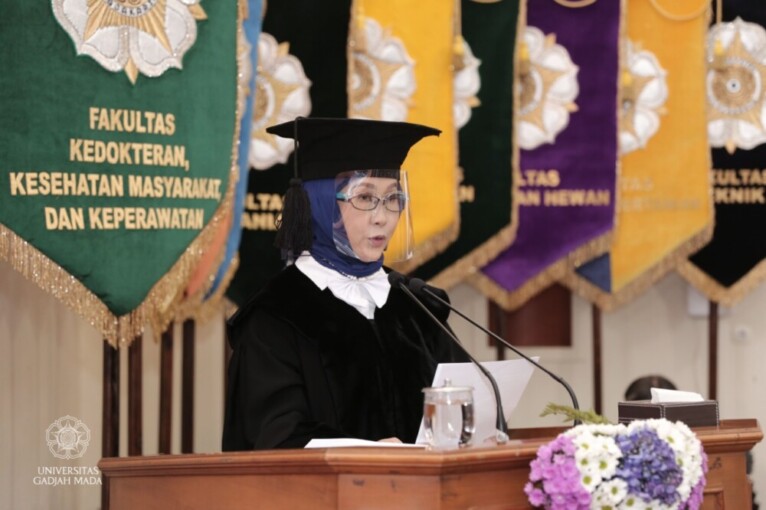 Universitas Gadjah Mada inaugurated a new professor in dermatology and venereology on Tuesday (15/6). The newly appointed professor is a lecturer, head of the department, and practitioner in pediatric dermatology and genodermatology. In her inaugural lecture, Professor Retno Danarti explained the importance of genomic research on genodermatosis and mosaicism to advance and promote skin health in Indonesia.
Genodermatosis is a hereditary skin disorder that causes high morbidity and mortality. Most genodermatoses show characteristic skin findings regardless of the involvement of other systems. Extracutaneous abnormalities can be asymptomatic or result in an increased risk of malignancy. Findings in hair, nails, teeth, and mucosa may have relation to skin involvement. Many of these occur at birth, during childhood, or before reaching adulthood. Initial manifestations are sometimes non-diagnostic. Thus, continuous evaluation and regular monitoring are required to generate an accurate and reliable diagnosis.
"The majority of these, especially in cases with skin patterns, can be explained by genetic mosaicism," said Retno at the UGM Senate Hall.
She elaborated that mutations occurring earlier in embryonic development led to more extensive abnormalities due to the higher differentiation potential of the mutated cells. Hence proper early diagnosis was essential to initiate therapy for skin manifestations and detect other extracutaneous abnormalities, including malignancy.
"Accurate molecular diagnostics can assist in the management, education, and prognosis for families of children with genodermatosis. Despite the barriers to genetic analysis of mosaicism, next-generation sequencing has brought about substantial advances in the pathogenesis of the disease, contributing significantly to clinical management and genetic counseling," she explained.
According to her, intensifying genomic research to reveal characteristics of mosaicism can help promote skin health. Recent advances in sequencing technology have made it possible to conduct comprehensive genetic research on mosaicism. The commercial next-generation sequencing released in 2005 has reduced the cost and time required to sequence samples compared to traditional capillary-based sanger sequencing. Regardless of these advances, mosaicism remains a challenge for further investigation to understand the nature of the distinctive conditions better.
"Collaborative research with sensor technology, nanotechnology, and artificial intelligence is among the many alternatives available. Biosensor technology, as well as nanotechnology, have been widely popular now in the development of science, including dermatology," said Retno.
Author: Agung Nugroho
Photo: Firsto