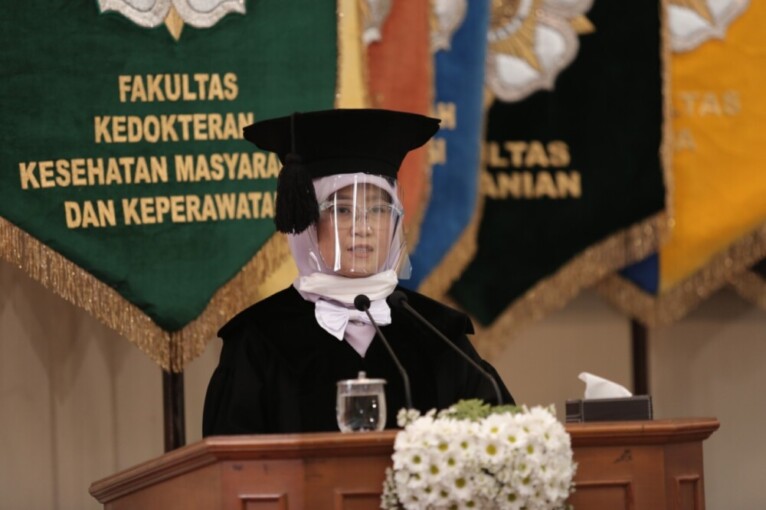 Universitas Gadjah Mada appointed Titik Nuryastuti, a clinical microbiologist and head of the Department of Microbiology, as a professor on Thursday (17/6). In her inaugural lecture, Professor Titik raised an issue about biofilm's detrimental effect that caused healthcare-associated infections (HAIs) and antibiotic resistance. According to her, biofilm-related infections have still yet to receive proper attention in recent years despite the National Institutes of Health data proving biofilms as mediators of HAIs. Reports estimate biofilms cause 65-80 percent of infections in the human body.
"Biofilm is like a bacterial defense and relatively more troublesome to eradicate with antibiotics. Pathogenic bacteria in a biofilm setting can cause serious problems for human health and contribute to a high rate of antibiotic resistance," said the head of the UGM COVID-19 Lab Team.
Titik explained that bacterial infections have returned to the spotlight due to the COVID-19 pandemic. Incidences included acute co-infections due to planktonic bacteria and chronic co-infections associated with biofilm formation. For instance, the use of endotracheal tubes as supportive therapy in COVID-19 patients posed an increased risk of ventilator-associated pneumonia resulting from the biofilms on the inner and outer tracheal cannula.
"Biofilm-associated co-infections have the potential to worsen clinical conditions, increase mortality and hospitalization costs, and prolong stays," she said.
She added that biofilms or sessile bacteria represented 99% of the population of bacteria in the universe. They were both beneficial and detrimental. Their presence in the gastrointestinal and genitourinary tracts was pivotal to humans. Contrastingly, they were equally disadvantageous for causing the following cases: infectious endocarditis, osteomyelitis, cavities, infections related to invasive medical devices and implants such as catheters, cardiac prostheses, pacemakers, joint and orthopedic prostheses, contact lenses, and chronically injured tissues. Biofilms might cause persistent infections and relapses, and conventional antibiotics were not capable of treating them.
"It is estimated 80% of infections are related to biofilms, emphasizing their role as the main infection mediator," she said.
Through the speech, Titik encouraged fellow clinical microbiologists and clinicians to pay more attention to biofilms. It had been more than 60 years since the first biofilm report, yet concern remained insufficient and lacking, especially in Indonesia. She revealed that an update on the concept of the bacterial growth phase and identification of bacteria from clinical samples must begin.
"Similarly, it is essential to enhance knowledge and awareness of biofilm-related infections. Hence we can control and carry out comprehensive measures to address antibiotic resistance and HAIs in the future," she explained.
Author: Agung Nugroho
Photo: Firsto