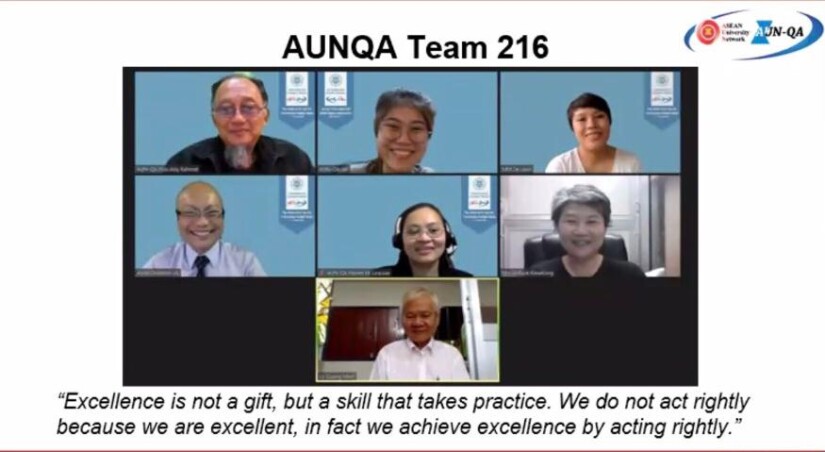 Three master's degree programs at Universitas Gadjah Mada are looking forward to the results of the 216th ASEAN University Network-Quality Assurance (AUN-QA) assessment conducted on June 7-11. The said programs are Master in Religious and Cross-Cultural Studies, Master in Performing Arts and Visual Arts Studies, and Master in Nursing. The assessment consists of interviews, discussions, and virtual tours to provide a complete picture of the management and quality assurance of the programs.
"It is the 15th assessment for UGM since its first participation in 2009," explained Widya Wasityastuti, Head of Quality Assurance for Research and Community Service.
AUN-QA assessment itself is a process to obtain international recognition and certification for universities in ASEAN countries. The entire procedure involves all elements of the university, including university and faculty executives, lecturers, staff, students, and alumni. Assessors from various universities across ASEAN will carry out in-depth verification of the programs.
Six academics were in charge of this very assessment, namely Professor Arnel Onesimo O. Uy (De La Salle University, the Philippines), Siriluck Kiewkong (Mahidol University, Thailand), Le Quang Minh (Vietnam National University, Vietnam), Professor Monet M. Loquias (University of the Philippines, the Philippines), Professor Riza Atiq Abdullah bin O.K. Rahmat (Universiti Kebangsaan Malaysia, Malaysia), and Marlene M. De Leon (Ateneo de Manila University, the Philippines).
Head of Master in Performing Arts and Visual Arts Studies Paramitha Dyah Fitriasari revealed her program had conducted systematic self-evaluation since 2019 to meet the 11 AUN-QA certification standards as part of its quality assurance. She added that many parties at UGM provided continuous support and assistance to the assessment, including the Directorate of Information Systems and Resources, Directorate of Student Affairs, Gadjah Mada Medical Center (GMC), Public Relations and Protocol, Wisdom Park, Directorate of Assets, and UGM Library.
"Hopefully, the entire process will result in us being AUN-QA certified," said Paramitha.
Author: Gloria