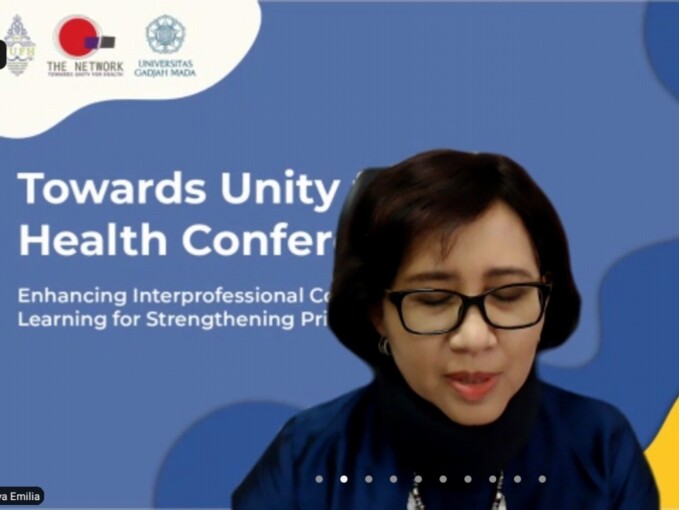 UGM Faculty of Medicine, Public Health, and Nursing, together with the TUFH community (a network of community-oriented health care organizations, universities, community institutions, and thought leaders from all over the world), currently hosts the annual international conference The Network: Toward Unity for Health (TUFH) 2021. The virtual program started on July 20 and would end on July 23.
Taking the theme Enhancing Interprofessional Collaboration and Learning for Strengthening Primary Health Care, this year's conference aims to increase interprofessional collaboration and education to strengthen primary health care. With hundreds of academics and practitioners from all five continents attending, TUFH 2021 is expected to bring about a rise in human resource capacity to improve the quality of health services and realize health for all.
"It is an important theme. The pandemic has made us realize that no single profession can work alone," said TUFH Secretary-General Elsie Kiguli-Malwadde at the opening ceremony, Wednesday (21/7).
In his remarks, UGM Rector Professor Panut Mulyono said UGM and TUFH shared the same view on the importance of community service and empowerment within education. In line with TUFH's objective, UGM, through Student Community Services – Community Empowerment Learning (SCS-CEL), provides a platform for students to experience firsthand how to empower and solve problems in the community with a multidisciplinary approach.
"The pandemic will not dampen our enthusiasm to serve the community. UGM is responding to the pandemic with research, innovation, and initiatives at the community level," said Professor Panut.
The conference comprised keynote speeches, workshops, and networking sessions, with the Dean of the Faculty of Medicine, Professor Ova Emilia, among the speakers. Through her presentation, Professor Ova elaborated on community-based education for health and social care students in Indonesia. According to her, such an approach provides several advantages for both sides, students and the community. Students can also acquire additional skills outside the classroom.
"Community-based education connects theory and practice, enabling learning to be easier to understand," said Professor Ova.
She added that UGM was the pioneer of community service activities in Indonesia. In the Faculty of Medicine, students were encouraged to involve themselves in the community since freshman year through the Community and Family Health Care – Interprofessional Education (CFHC-IPE) program. The program has allowed students to provide education and interact with the community since 2013.
"The CFHC-IPE is our effort to build students' ethics, responsibility, and communication and collaboration skills," said Ova.
Author: Gloria