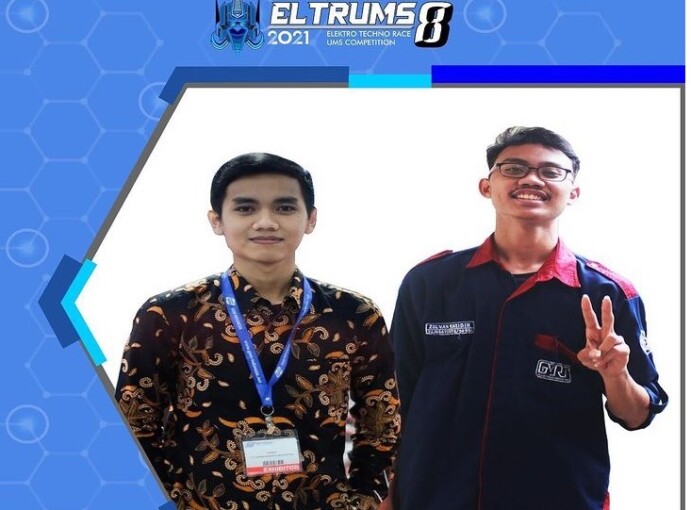 The Astra Jenaka team consisting of two Electrical Engineering students, namely Zulvan Kheidir 'Aliy Nurwigantara (undergraduate program) and Angga Priyatmoko (master's program), came first in the national line follower competition Eltrums 2021 (short for Electro Techno Race UMS Competition) held by the Electrical Engineering Student Association of Muhammadiyah University of Surakarta.
The annual competition was open to senior high school students, university students, and the general public and comprised three distinctive contest categories: line follower, e-sport, and project competition. The preliminary round began on 29 July, and the winner announcement took place on 31 July. Participants included, but were not limited to, the Electronic Engineering Polytechnic Institute of Surabaya, Udayana University, Yogyakarta State University, Universitas PGRI Kanjuruhan Malang, Polytechnic Institute of Nuclear Technology (STTN Batan), Bali State Polytechnic, etc.
According to Zulfan, the line follower contest aims to find the fastest autonomous robot that reaches the finish line by following a predetermined track. Zulfan continued, his team's robot could be programmed to detect lines made of iron or utilized for industrial purposes. Astra Jenaka managed to win despite struggling to qualify for the round of sixteen.
"Errors in the preliminary round made us pessimistic. We were second last when qualifying for the last 16. Alhamdulillah, we sorted it out and constantly recorded the best time up to the final. Hopefully, we'll get to improve ourselves every day," said Zulfan, Sunday (15/8).