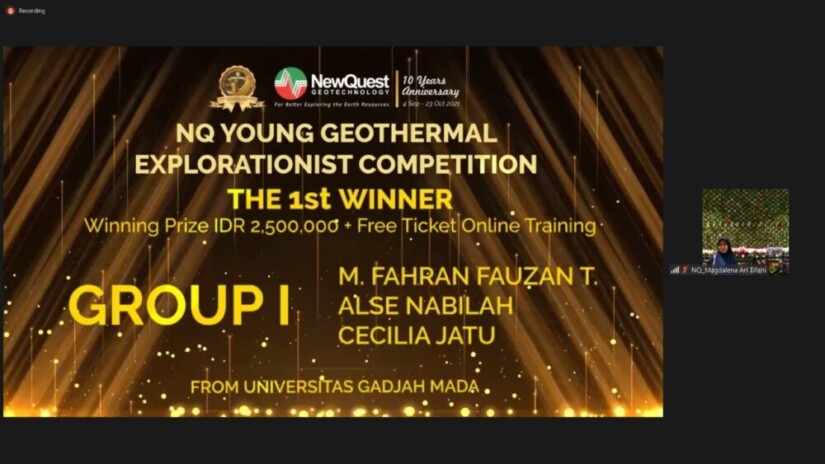 The Ultima team, consisting of Alse Nabilah, Cecilia Jatu Praba Datu, and M. Fahran Fauzan, claims first prize at the 2021 Young Geothermal Explorationist Competition by NewQuest Geotechnology. The competition challenges students to solve common problems in the initial study of geothermal exploration and prepares the younger generation for the utilization of clean energy.
Cecilia explained the work produced by the team was a conceptual model of the X field geothermal system resulting from the integration of 3G data (geology, geochemistry, and geophysics). The said model is used as the basis for determining the geothermal well design, location, number, and type of wells.
"In this competition, each team is not allowed to use any reference sources, such as books or papers. All participants must exert their respective abilities. Hence teams are required to prepare themselves as well as possible before the competition," she said on Thursday (4/11).
In addition, the time allotted for analysis and presentation was only six hours. Cecilia added the competition challenges the team big time as they must find many alternatives to overcome the complicated geological conditions of the geothermal system.
Despite the strain, Cecilia admitted that she and the team were delighted to take part in the national contest. They could meet other friends of similar interests in geothermal exploration from various universities across Indonesia. They were also grateful for advice and input from the geothermal experts at the event.
"We hope we can utilize the knowledge gained from this competition and the jury as well as possible to accelerate the use of geothermal energy in the future," she said.
Author: Desy