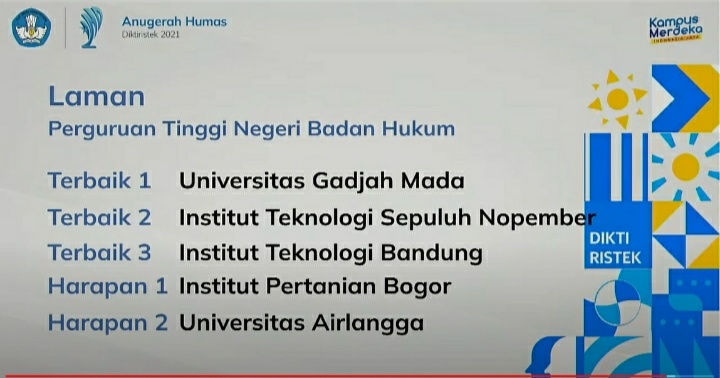 Universitas Gadjah Mada has picked up seven awards at the 2021 Anugerah Diktiristek (Higher Education, Research, and Technology Awards).
This annual event is held by the Ministry of Education, Culture, Research, and Technology to recognize and appreciate institutions for their outstanding works in public relations, journalism and media, cooperation, and the Kampus Merdeka (Freedom to Learn – Independent Campus) program.
"I'm proud of the efforts that the entire UGM community has given. This recognition is attainable thanks to the support of various parties, including alumni and partners," said UGM Rector Professor Panut Mulyono after receiving the awards in Jakarta, Thursday (13/1).
UGM, he continued, still had plenty of room for improvement hence striving to refine its quality in other fields. The Diktiristek awards serve as a means for universities to put in extra effort at work and become better.
"With this event, universities can learn from each other and are driven to make quality contributions to the community and nation. Long live Indonesian universities!" said Panut.
The following are the details of the awards received by UGM:
Anugerah Humas Diktriristek 2021 (Public Relations)
Website Management – Winner
Social Media Management – 3rd Place Winner
Anugerah Kerjasama Diktiristek 2021 (Cooperation)
Management of Cooperation Data – Winner
Management of Cooperation Reporting and Facilitation of Cooperation – 2nd Place Winner
Anugerah Kampus Merdeka 2021 (The Independent Campus Program)
The Most Outgoing Students for International Student Mobility Awards (IISMA)
The Most Courses Organized for National Student Mobility
The Most Incoming Students for National Student Mobility
The Best Student Intern (Muhammad Erwan Cerentino Sawitrawaman)
Author: Ika