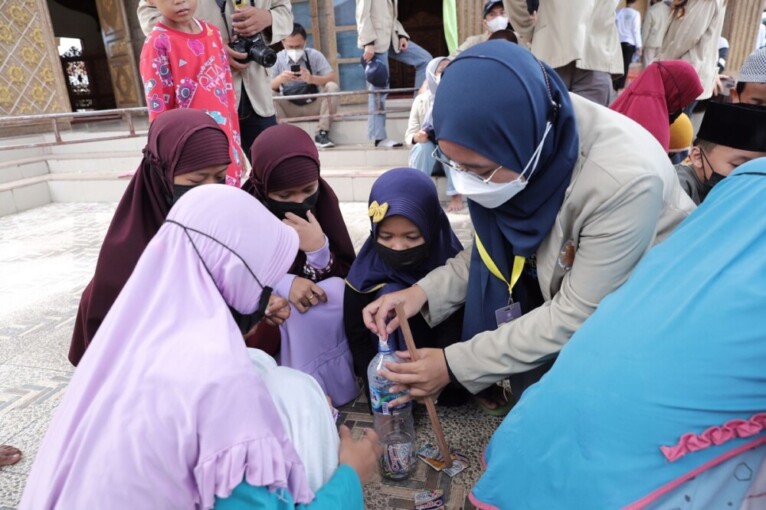 Sixteen UGM students teamed up with UIN Raden Fatah students in a joint Community Service and Empowerment program to design and build a water filtration system and ecobricks in the estuarine fishing village of Sungsang II and III, Banyuasin, South Sumatra.
Over the years, the Sungsang community has faced chronic clean water, sanitation, and hygiene problems due to poor waste & wastewater management and lack of availability and access to clean water. Usually, people use rainwater that is stored in water drums for bathing and meeting their daily water needs.
"These are problems that people complain about because they have to use tidewater that has been mixed with garbage and household waste to fulfill their water needs," said team leader Charliene Ngabalin, Thursday (27/1).
To solve these, the team then prototyped a water filtration system that combines two-stage RO (Reverse Osmosis), sediment cartridge, activated carbon, and zeolite. The way this system works, Charliene added, was by flowing water through a water pump and into the first and second RO filters to filter out various impurities carried in the water.
The water will then pass through the sediment cartridge to trap the suspended solids. The activated carbon filter, which comes next, serves as a disinfectant, removing organic matter and odors from the water, and the zeolite will bind to and remove any metals. Finally, the water has low turbidity and is ready for use.
In addition to providing clean water, students also made ecobricks to deal with piles of garbage in the area. Ecobricks can serve as an alternative to conventional bricks made of clay, sand and lime, concrete, etc., for building reusable building blocks, Lego-like furniture, or home accessories.
Desti Putri Amartia, one of the team members, said eco-bricking was simple and easy. It only requires plastic bottles of the same size, plastic waste, and wooden sticks. Before the plastic is sun-dried, all plastic fillings and equipment must be washed and sterilized with antibacterial soap. Once clean and dry, plastic waste is put into PET bottles.
"The bottles should not deflate or make a sound when pressed," said Desti.
Author: Satria
Photo: Firsto